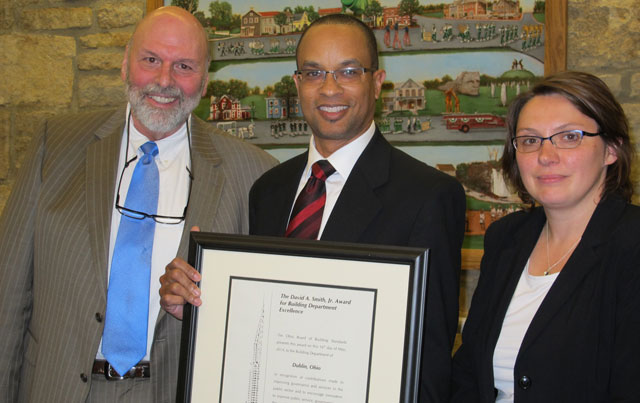 Director of Dublin Building Standards Jeff Tyler (middle) receives the State Building Standard of Innovation Award from Tim Galvin, Vice Chairman, Ohio Board of Building Standards (left) and Regina Hanshaw, Executive Secretary of the Ohio Board of Building Standards (right).
COLUMBUS, Ohio – At the Monday, June 9 Dublin City Council meeting, the Ohio Board of Building Standards (Board) presented the City of Dublin Building Standards Department the 2014 David A. Smith Building Department Award for Innovation.
This award is presented annually to recognize an Ohio certified building department that has demonstrated exemplary customer service, dedication to public service, and has furthered the mission and goals of the Board. "Dublin's building department and the other nominees are very knowledgeable, quick and responsive to their customers, and provide valuable services promoting safety and growth in their communities," said Board Vice Chairman Tim Galvin.
"On behalf of the City of Dublin and our building safety partner Washington Township, we are honored to receive this distinguished recognition from the Ohio Board of Building Standards," said Dublin Building Standards Director Jeff Tyler. "This award is a credit to our dedicated Building Standards staff, our engineers and planners, City leadership and the seamless partnership with Washington Township."
Of the approximately 400 full service certified building departments in Ohio, the Board received 13 nominations for this year's award. Once nominations were received, the Board selected the winner based on a review of the departments' performance, contacts building contractors and designers who worked in those communities, and conducted 'secret shopper' calls to the departments. The following are the certified building departments nominated for 2014:
City of Beachwood
City of Columbus
City of Dublin
City of Fairborn
Garfield Heights
City of Groveport
City of Medina
Medina County
Miami County
City of Moraine
City of North Ridgeville
City of Sharonville
City of Upper Arlington
The award is named for former Board Member David A. Smith. Mr. Smith embodied the goals and mission of the Board through his long career in model code associations, as an engineer, and as a building official.
# # #
www.com.ohio.gov
Follow the BBS on Twitter at www.twitter.com/ohiobuilds
Contact:
Matt Mullins (614) 644-2556
matt.mullins@com.state.oh.us
Sue Burness (614) 410-4508
sburness@dublin.oh.us