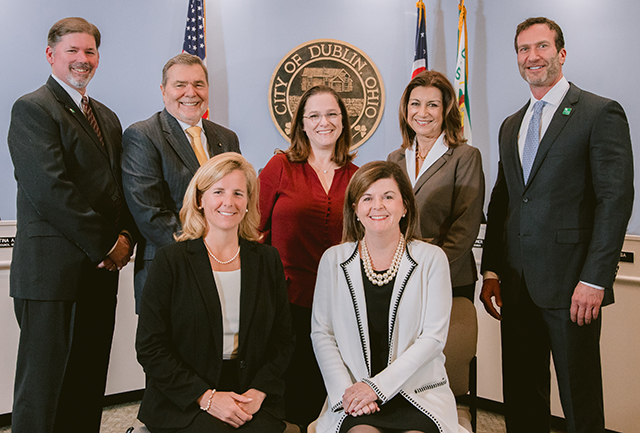 At the June 22, 2020 regular Council meeting, Dublin City Council Adopted a Resolution 37-20 combating injustice, inequality, intolerance, negative stereotyping and discrimination based on race, religion, ethnicity or belief.
Resolution 37-20 also affirms the constitutional rights of everyone to peacefully assemble and protest or demonstrate against injustice and that the City will provide a welcome and safe environment for all to be respected, listened to and heard.
Resolution 37-20 also states a series of actions to be taken by the City:
Section 5. City Council directs the City Manager to undertake a review of the City's relevant organizational and departmental policies, practices and training to ensure the City fosters diversity, equity and inclusion in all aspects of City operations and report findings and improvement plans to City Council no later than September 14, 2020
Section 6. The City Manager and Chief of Police will continuously inventory and assess the City's training and associated resource needs based upon both training requirements, as may be or become legally required, and training that may be suggested by our residents and/or by the City's staff. This is training as it may apply not only to Police Officers but also for employees citywide.
Section 7. The Chief of Police will establish a Chief's Advisory Committee with the intent to make its interactions, advice and counsel to the Chief and Police Department as a whole, providing proactive community engagement and critical dialogue concerning the protection, service, and public safety needs for the City of Dublin
Section 8. The City Manager will establish a Task Force comprised by a diverse representation of the Dublin community, including the Dublin City School District, to advise Council and City staff on those matters stated in the Resolution. The City Manager will work with Council to identify those individuals to serve on the Task Force. City Council will appoint members of the task force at its July 27, 2020, Council meeting.
Section 9. The City Manager will work with staff and other community partners to develop a schedule of proposed public engagements per the Resolution. Such engagement may be in various forms and types. Council will review and approve a schedule of events at its July 27, 2020 Council meeting.
Section 10. The City will collaborate with other community organizations and promote engagements in order to maximize public participation and input.
Section 11. Council and staff have and are actively engaging with Central Ohio Mayors Managers Association, Mid-Ohio Regional Planning Commission, Ohio Municipal League and the Ohio Mayor's Alliance. All of these organizations are actively engaged in the dialogue on combating racism. These forums and collaborations serve as a means to share information among peer communities and learn from each other.
###
Media Contact
Sue Burness
Director of Communications & Public Information
sburness@dublin.oh.us
614.226.5382