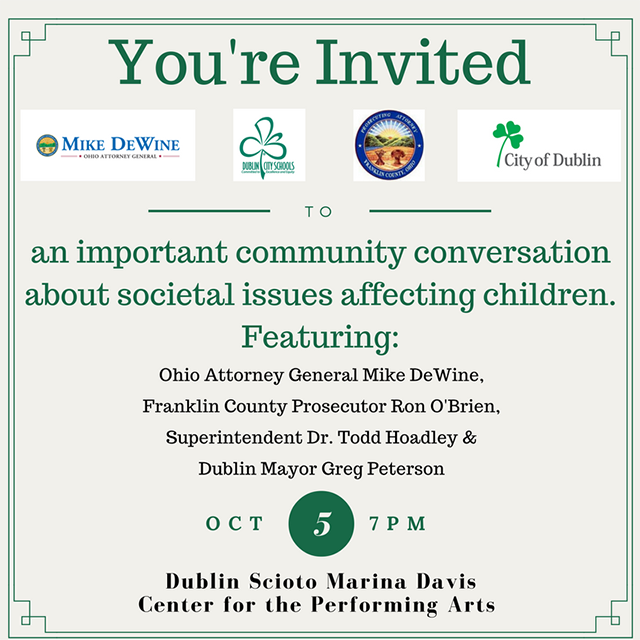 Dublin City Schools is partnering with the Ohio Attorney General's Office, the Franklin County Prosecutor's Office, and the City of Dublin to host a community conversation about opiate abuse and other issues facing our youth on Oct. 5 at 7 p.m. in the Marina Davis Center for the Performing Arts at Dublin Scioto High School.
"Our country, our state, and our local communities are dealing with an unprecedented opiate abuse crisis. People of all ages are dying," said Superintendent Dr. Todd Hoadley. "We are committed to leading honest and productive conversations around opiates, alcohol abuse, and other issues. I'd like to thank our partner agencies and individuals for participating in this important first step in answering the question, 'What can we do as a collective to turn the tide of this epidemic?'"
The event will feature comments and presentations from local and state officials including Ohio Attorney General Mike DeWine, Franklin County Prosecutor Ron O'Brien, Dublin City Schools Superintendent Dr. Todd Hoadley, and Dublin Mayor Greg Peterson to name just a few of the evening's participants.
One of Dublin City School's District goals this year is to elevate the community conversation around drug and alcohol abuse.
"Too often the topics of drug and alcohol abuse, especially by students, are spoken of in hushed tones or not discussed at all," Dr. Hoadley said. "If we're going to facilitate meaningful change and help save lives, we can't be afraid of difficult conversations."
The community conversation at Dublin Scioto may include several topics of concern including human trafficking, social media safety, and more.
"The City of Dublin and the Dublin Police Department understand that it will take a collaborative effort by the entire community to tackle this issue," said Dublin Mayor Greg Peterson. "We are proud to partner with Dublin City Schools, the Ohio Attorney General's Office and the Franklin County Prosecutor's Office as we work toward a plan of action. It is important for everyone to join this community conversation to discuss solutions to this growing problem."
The City of Dublin and the Dublin City Council are partners with Dublin City Schools in this effort to address this important societal issue.
Media Contact:
Lindsay Weisenauer
Senior Public Information Officer
614.704.9742 – Cell
lweisenauer@dublin.oh.us
Newsroom: dublinohiousa.gov/newsroom