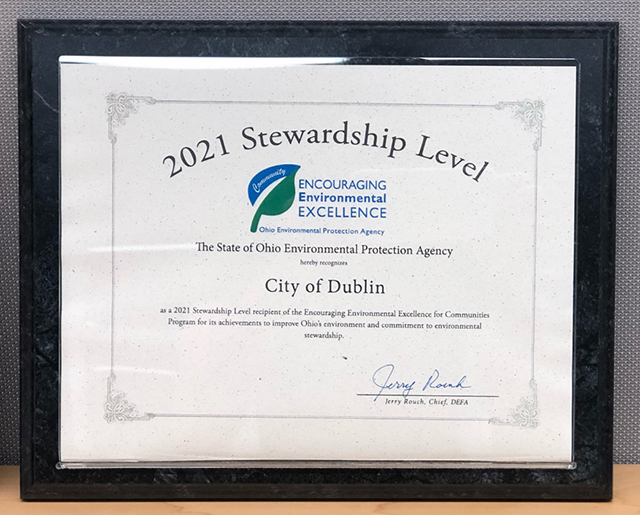 (Dublin, OH) — The City of Dublin is honored to be one of seven communities to receive the first-ever community environmental stewardship awards from Ohio EPA.
The Encouraging Environmental Excellence for Communities (E3C) program recognizes communities for implementing environmental stewardship initiatives through environmental, economic, and social programs and activities.
Dublin received the Ohio EPA's Stewardship Level award for its recent environmental initiatives, including implementing a financing program to support energy efficiency, as well as creating a community sustainability team.
"The City of Dublin values environmental responsibility and understands that sustainability must be at the center of everything we do," City Manager Dana McDaniel said. "This recognition from Ohio EPA shows that our efforts make a positive impact in our community."
The City implemented a Property Assessed Clean Energy (PACE) financing program to support energy efficiency and renewable projects. as well as programs to reduce the number of commuters driving alone and encourage the community to recycle.
Dublin also implemented energy efficiency upgrades in community facilities, purchased compressed natural gas (CNG) vehicles and vehicles with anti-idling devices, developed a community composting program and is implementing green infrastructure in capital improvement projects.
The goal of environmental stewardship is to reduce the impact of business or organizational activities on the environment beyond measures required by any permit or rule, producing a better environment, conserving natural resources and resulting in long-term economic benefits.
The program's three levels include Implementation Level, which requires completion of one environmental activity; Stewardship Level, requiring completion of activities in two environmental, one economic, and one social activity; and Sustainable Level, requiring completion of four environmental, two economic, and two social activities.
"Local projects can have the greatest impacts on protecting and improving our environment," Ohio EPA Director Laurie Stevenson said. "These communities deserve recognition for going beyond what regulations require and setting a standard for other communities to follow."
E3C awardees at each level receive a plaque, an E3C decal and a flag commemorating their achievements. More information about the E3C program is available online, or by calling Ohio EPA's Office of Compliance Assistance and Pollution Prevention at 1.800.329.7518.
About Ohio EPA
The Ohio Environmental Protection Agency was created in 1972 to consolidate efforts to protect and improve air quality, water quality and waste management in Ohio. Since then, air pollutants dropped by as much as 90 percent; large rivers meeting standards improved from 21 percent to 89 percent; and hundreds of polluting, open dumps were replaced with engineered landfills and an increased emphasis on waste reduction and recycling.
About the City of Dublin, Ohio, USA
Dublin is a city of more than 50,000 residents located just northwest of Columbus, Ohio. It offers residents and corporate citizens responsive services, attractive housing, superior public education, direct regional highway access, abundant park space, thoughtful and strategic planning, innovative ideas and technology and a dynamic community life. Dublin is consistently ranked one of the safest cities in the nation. It is home to more than 20 corporate headquarters, an entrepreneurial center, 4,300+ businesses, world-class events and the urban, walkable Bridge Street District. For more information, visit DublinOhioUSA.gov or call 614.410.4400.
#
Media Contacts

Shirley Blaine
City of Dublin
Public Information Officer
614.230.4683 – Cell
614.410.4523 – Desk
sblaine@dublin.oh.us
Newsroom: https://dublinohiousa.gov/newsroom/
Dina Pierce
Ohio EPA
Public Information Officer
dina.pierce@epa.ohio.gov