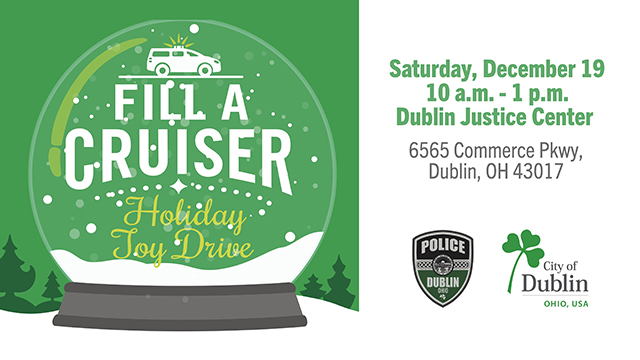 The Dublin Police Department is hosting its second annual "Fill A Cruiser" event to collect donated toys to ensure local kids receive a present this holiday season. This is in partnership with the Get Behind The Badge initiative aimed at supporting families of first responders in need.
What: Fill A Cruiser Holiday Toy Drive
When: Saturday, Dec. 19, 2020
Time: 10 a.m. to 1 p.m.
Where: Dublin Justice Center, 6565 Commerce Parkway
Community members who would like to participate can drop off unwrapped gifts at the Dublin Justice Center from 10 a.m. to 1 p.m. Saturday, Dec. 19. To remain safe during the COVID-19 pandemic, there will be a drive-thru area outside the Justice Center so people can make their donations from their vehicle.
To help represent all age groups, please consider donating presents for children in two age categories: newborn to 10 years old and 11 to 17. Gift cards are also accepted and can make a nice gift for young adults. Gift cards may also be used to purchase clothing or other items.
Get Behind The Badge will coordinate giving donations to first responder families as well as local kids who are facing hardships at home.
Get Behind The Badge
Get Behind The Badge was established in 2001 after the line of duty death of Whitehall Police Officer Terry McDowell. Since then Get Behind The Badge has been able to provide financial assistance to the families of law enforcement and fire fighter personnel who have been killed or critically wounded on or off duty.
#
Media Contact:
Rebecca Myers
Public Information Officer
614.381.5225 – Cell
rrmyers@dublin.oh.us
Newsroom: https://dublinohiousa.gov/newsroom/