(Dublin) – In a proactive effort to safeguard our residents, the Dublin Police Department and the City of Dublin announce a new "Safe Exchange Zone" in the front parking lot of the Dublin Justice Center.
The "Safe Exchange Zone" provides a safe environment for people, who buy, sell, or trade items in private party transactions. There are two designated parking spaces at the Justice Center and both are under 24-hour video surveillance.
"Our intention behind the "Safe Exchange Zone" is to prevent potential fraud and robberies that can be associated with these types of transactions," said Chief Justin Paez. "We want to continue to protect our residents to the best of our abilities and this is another service we can offer to keep everyone safe."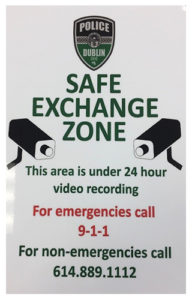 Here are a few safety tips to keep in mind when conducting such transactions:
Do not go to a transaction alone
Make sure a friend or family member is aware of the transaction details
Insist on meeting in a public area like our safe transaction zone
Do not go into someone else's house, and do not allow them into yours
Complete the transaction during daylight hours
Be extra cautious when buying or selling valuable items such as vehicles and jewelry
Trust your instincts and be cautious of scams
The Dublin Justice Center is located at 6565 Commerce Pkwy, Dublin, OH 43017.
Media Contact:
Melanie Amato, Public Information Officer
614.410.4501 – Desk
614.318.3009 – Cell
mamato@dublin.oh.us
Newsroom: https://dublinohiousa.gov/newsroom/