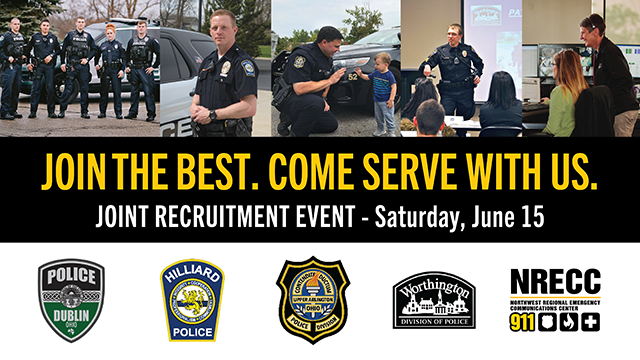 (Dublin, Ohio) – The Dublin Police Department, Hilliard Division of Police, Upper Arlington Police Department, Worthington Police Department and the Northwest Regional Emergency Communications Center (NRECC), will hold the first joint recruitment event on Saturday, June 15, 2019.
The recruitment event will begin at 2 p.m. and include an introduction from each department and provide more information about the application process, test registration, background investigation, salary and benefits and opportunities within each department.
Joint Recruitment Event
Saturday, June 15, 2019
2 – 4 p.m.
Dublin Community Recreation Center l 5600 Post Road l Dublin, OH
"The upcoming Joint Recruitment Event offers us an excellent opportunity to proactively engage candidates who represent the future of law enforcement and build upon the strong partnerships we share between police departments in Central Ohio," said Interim Chief Justin Paez. "We all want to hire exceptional people to protect and serve our respective communities. This event is a unique opportunity for those interested in becoming a police officer to talk with multiple agencies simultaneously."
No prior law enforcement experience is necessary for all agencies.
More information on joining each department is available at:
#
Media Contact:
Melanie Amato, Public Information Officer
614.410.4501 – Desk
614.318.3009 – Cell
mamato@dublin.oh.us
Newsroom: https://dublinohiousa.gov/newsroom/