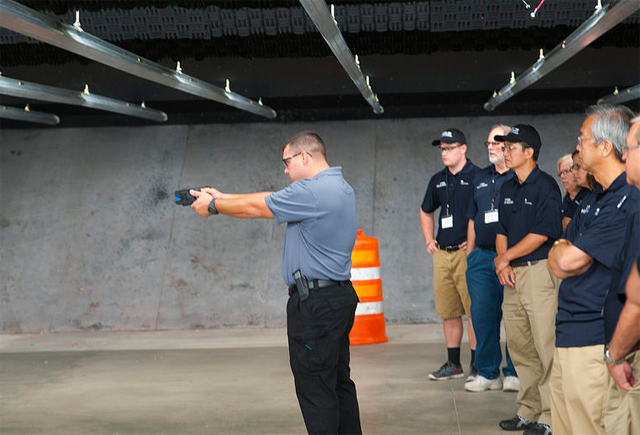 (Dublin, OH) The Dublin Division of Police is now accepting applications for the 2015 Citizen Police Academy.
This 14-week program gives participants insight into the profession of law enforcement and the operations of the Dublin Division of Police. Sessions will cover topics such as the arrest process, search and seizure, traffic stops and a firearms live-shooting experience.
The class is open to non-Dublin residents, but Dublin residents are given preference.
Classes run from 6:30-9:30 p.m. on Thursdays at the Dublin Justice Center.
2015 Citizen Police Academy Schedule:
August 27
September 3, 10, 17, 24
October 1, 8, 15, 22
November 5, 12, 19
December 3
December 10 – Graduation
All applicants must be 18 years or older. Those who have committed a felony and illegal drug users will not be considered. A full list of disqualifiers can be found here https://dublinohiousa.gov/dublin-police/citizens-police-academy
Deadline to apply is Tuesday, June 30, 2015 at 5 p.m. Apply online.
Contact Cpl. Renae Rice at 614.410.4064 or Cpl. Kevin Keiffer at 614.410.4800 if you have any questions.
#
Media contact:
Lindsay Weisenauer
Senior Public Information Officer
614.410.4504 – Desk 614.704.9742
Cell lweisenauer@dublin.oh.us
Newsroom: https://dublinohiousa.gov/newsroom | @DublinOhio | @DublinPolice | www.DublinOhioUSA.gov