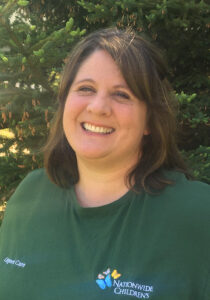 (Dublin, OH) — The City of Dublin is proud to participate in the third annual COSI Science Festival taking place May 5-8, 2021. Dublin had the opportunity to nominate a STEM Star to represent the community and the City designated Dublin School District resident and Dublin Urgent Care registered nurse Courtney Porter for this honor.
Courtney Porter is the RN clinical leader at Nationwide Children's Hospital's Dublin Urgent Care location. Throughout the COVID-19 pandemic, Porter has been Dublin Urgent Care's resource to keep staff up to date on proper personal protective equipment (PPE), infection control and equipment cleaning protocols to keep the urgent care facility's environment safe for staff and patients.
"The City of Dublin is grateful for our health care community's unwavering dedication to their patients during the COVID-19 pandemic," said Dublin's 2020 STEM Star, Deputy City Manager/Chief Finance and Development Officer Megan O'Callaghan. "Nurses like Courtney show that a passion for science can help save lives, and that is why we selected her as Dublin's 2021 COSI STEM Star."
A registered nurse and certified pediatric nurse, Courtney is a graduate of Ohio State University and holds a bachelor's degree in psychology and a master's degree in nursing. She is also a Dublin Coffman High School graduate and continues to live in the Dublin community with her husband and two children.
Porter has had the pleasure of working in the Emergency Department, Pediatric Surgery Clinic and the Urgent Care Network at Dublin Urgent Care during her 17-year nursing career, which she began in 2004 at Nationwide Children's Hospital.
Porter has a drive for quality improvement and has worked on several multidisciplinary projects throughout the hospital and urgent care. She enjoys gathering data and analyzing monthly data for metrics and trends. Since 2020, Porter has continued to monitor COVID-19 statistics in real time as it relates to Dublin's Urgent Care.
"Courtney's leadership and resourcefulness during this global pandemic have truly been remarkable," said Director Kent Weakley with Nationwide Children's Hospital Dublin site. "We are extremely lucky to have Courtney as part of our Urgent Care Leadership Team and appreciate her dedication to Dublin patients and staff."
In 2019, Porter was nominated by a Dublin family for a Daisy Award for their appreciation of how she went above and beyond to make their urgent care experience better for the patient and family.
Porter's mother was a nurse for more than 30 years, and it was her journey and stories that inspired Porter to become a nurse, too.
"Though it's often not the first thing people think of when they think of nurses — nursing is a science," Porter said. "I would encourage anyone thinking of a career in science to consider becoming a nurse. We apply science in a direct, hands-on way to improve people's health and well-being."
The COSI STEM Star program is part of the 2021 COSI Science Festival and recognizes individuals in Central Ohio who champion science, technology, engineering and mathematics (STEM). Courtney Porter joins 17 STEM Stars who will serve as representatives of their community during the virtual COSI Science Festival.
The third annual COSI Science Festival will be held virtually and will include dozens of unique online events, showcasing incredible science being done in Ohio, illustrating that science is everywhere and for everyone.
#
Media Contact:
Shirley Blaine
Public Information Officer
614.230.4683 – Cell
614.410.4523 – Desk
sblaine@dublin.oh.us
Newsroom: https://dublinohiousa.gov/newsroom/