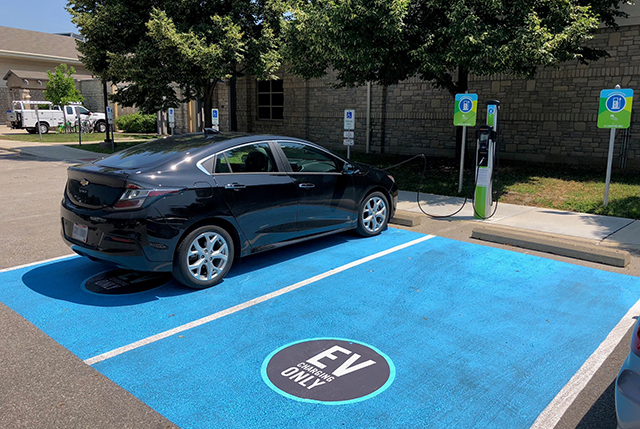 The City of Dublin has installed a dual-port smart charging station at the Dublin Community Recreation Center (DCRC). This Level 2 station can charge any EV and is currently free of charge. To access the charging station, users will need a free ChargePoint card or the ChargePoint cell phone app. The app allows users to see whether a charger is in use or available. Free ChargePoint cards are available inside the DCRC.
The level 2 charging station is a Chargepoint CT 4021 model that includes many features, including:
Full motion color LCD display instructs drivers and supports updates
Dual ports accommodate two vehicles with a single bollard charging station
Locking ports and cable retraction
24/7 driver phone support
Real-time energy measurement
This new charging station replaced the two Level 2, single port, charging stations that had been in use at the DCRC since 2012. The single port charging stations will be repurposed at other locations in the City, yet to be determined.
There are also charging stations at the City garage located at 75 N. High St. next to the library.
Click here to find an electric charging station.
###
Media contact:
Lindsay Weisenauer
Public Affairs Officer
614.704.9742 – Cell
lweisenauer@dublin.oh.us
Newsroom: https://dublinohiousa.gov/newsroom
@DublinOhio | @DublinPolice | www.DublinOhioUSA.gov