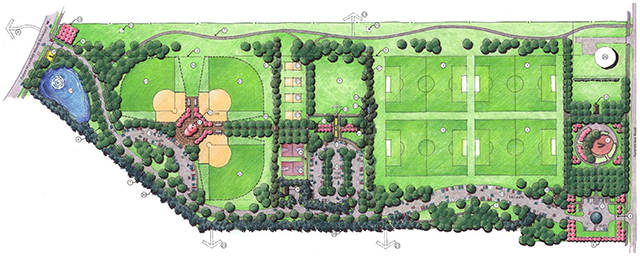 Emerald Fields Public Input Session Presentation
The City of Dublin hosted a public meeting regarding the Emerald Fields court expansion project on Tuesday, October 18, 5:30 – 7 pm at the Dublin Community Recreation Center, Talla 3.
City of Dublin officials gave an overview of the previously approved Master Plan and outlined potential options for court expansions requested by residents, followed by open discussion to determine the preferred option(s) prior to moving forward with the final design process.
Residents are invited to submit feedback directly to Shawn Krawetzki, Landscape Architect at skrawetzki@dublin.oh.us by 5 pm on Friday, October 21.
About Emerald Fields Park:
This 33.8 acre community park located at 4040 Wyandotte Wooods Blvd. includes parking lots, ball diamonds, shared use paths, accessible playgrounds, sports fields, restrooms, shelters, and public art.
Media Contact:
Sarah McQuaide, Public Information Officer
614.410.4523 – Desk
614.593.9438 – Cell
smcquaide@dublin.oh.us
Newsroom: https://dublinohiousa.gov/newsroom/