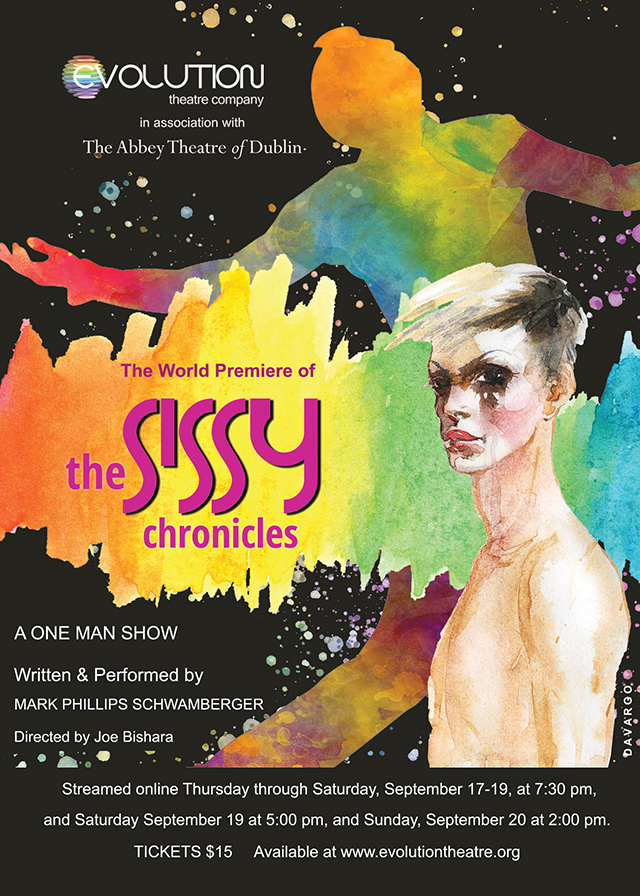 Evolution Theatre Company, in association with the Abbey Theater of Dublin, announces a world premiere production of the new one-person play, "The Sissy Chronicles," written and performed by Mark Phillips Schwamberger and directed by Joe Bishara, Theater Supervisor at the Abbey Theater of Dublin.
The production, a dramatically staged, personal recounting of the life of its author, is a highly relatable exploration of the lived experience of a gay man, filled with all the pathos and humor one expects from such a heartwarmingly in-depth accounting of the societal structures and patterns which confront, shape, and ultimately define the lives of those deemed "other" or "different."
"It has been my distinct pleasure to collaborate with Evolution Theatre Company on multiple productions ("Sticks and Stones," "Corpus Christi," "Breaking the Code," "Elephant in the Room") over the past five years. Mark's touching and humorous coming of age story epitomizes self-definition and self-identity," Director Joe Bishara said. "The City of Dublin is honored to bring inclusion into the spotlight and collaborate on the world premiere of "The Sissy Chronicles" with Mark and the Evolution Theatre Company."
In light of the current pandemic and in keeping with CDC, Ohio Department of Health and Franklin County Public Health guidelines, the world premiere production of "The Sissy Chronicles" will be streamed online Thursday through Saturday, Sept. 17-19, at 7:30 p.m., with an additional showtime on Saturday, Sept. 19 at 5 p.m., as well as Sunday, Sept. 20 at 2:00 pm. Tickets are $15 and may be purchased in advance online at the Abbey Theater of Dublin's website. More information about "The Sissy Chronicles" can be found by visiting the Evolution Theatre Company website at EvolutionTheatre.org or on the Evolution Theatre Company Facebook page.
Playwright and actor, Mark Phillips Schwamberger, is available to the media for interviews regarding "The Sissy Chronicles," which he states is, "funny, sad, hopeful, but most importantly, true."
###
About Evolution Theatre Company
Evolution Theatre Company presents works with which the LGBTQQIA community can identify; works that celebrate and validate the community, its present, past and future; works that bring dignity to, and tolerance and acceptance for, the community not only in Columbus but in the country and the world.
We seek to draw audience members into their own experience of theatre, one that will be entertaining, educational, and rewarding.
Through the works produced, we challenge the audience to consider different points of view and alternate values to increase social consciousness and compassion.
Evolution Theatre Company produces small scale, actor-centered plays depicting the comedy and tragedy of the human condition that educate, enlighten and entertain. This is accomplished by producing works of artistic and social significance with professional expertise and creative passion. In so doing we have developed an audience which supports such work and gives us opportunities to discover and develop local talent, and to establish an alternative professional theatre in Columbus, OH.
Represented in each season are works by established well-known, lesser known and new emerging playwrights and composers.
Evolution Theatre Inc. prohibits discrimination in employment, access, and programs based on sexual orientation, gender identity, race, sex, ethnicity, origin, disability, religious beliefs or age.
Evolution Theatre Company's Mission Statement
Evolution Theatre Company provides a supportive encouraging environment for celebrating the artistic vision of lesbian, gay, bisexual, transgender, queer, questioning, intersex and ally (LGBTQQIA) individuals, advancing the understanding of gender issues, and fostering the expression of creative performance arts by and about the LGBTQQIA community.
About the City of Dublin, Ohio, USA
Dublin is a city of more than 50,000 residents located just northwest of Columbus, Ohio. It offers residents and corporate citizens responsive services, attractive housing, superior public education, direct regional highway access, abundant park space, thoughtful and strategic planning, innovative ideas and technology and a dynamic community life. Dublin is consistently ranked one of the safest cities in the nation. It is home to more than 20 corporate headquarters, an entrepreneurial center, 4,300+ businesses, world-class events and the urban, walkable Bridge Street District. For more information, visit DublinOhioUSA.gov or call 614.410.4400.
#
Media Contact:
Shirley Blaine
City of Dublin Public Information Officer
614.230.4683 – Cell
614.410.4523 – Desk
sblaine@dublin.oh.us
newsroom: DublinOhioUSA.gov/newsroom/