Dublin, Ohio – Evolution Theatre Company announces the third production of our 2021 Season with the award-winning comedy SONS & LOVERS, written by Donna Hoke and directed by David Allen Vargo, presented at the Abbey Theater of Dublin, 5600 Post Road, Dublin, OH 43017.
The winner of the 2018 Emanuel Fried Award for Outstanding New Play, SONS & LOVERS by Donna Hoke is an engaging comedy about Ellen, a middle-aged woman at a crossroads in her life. Ellen knows the score – her son is gay, and her husband is cheating – but it's so much easier to pretend than to talk about it. It takes fantasy, farce, and one fabulous makeover before the truth flies free, mother and son discover just how much they have in common, and Ellen realizes the reality she's been avoiding most is her own.
SONS & LOVERS is presented by special arrangement with Stage Rights (www.stagerights.com)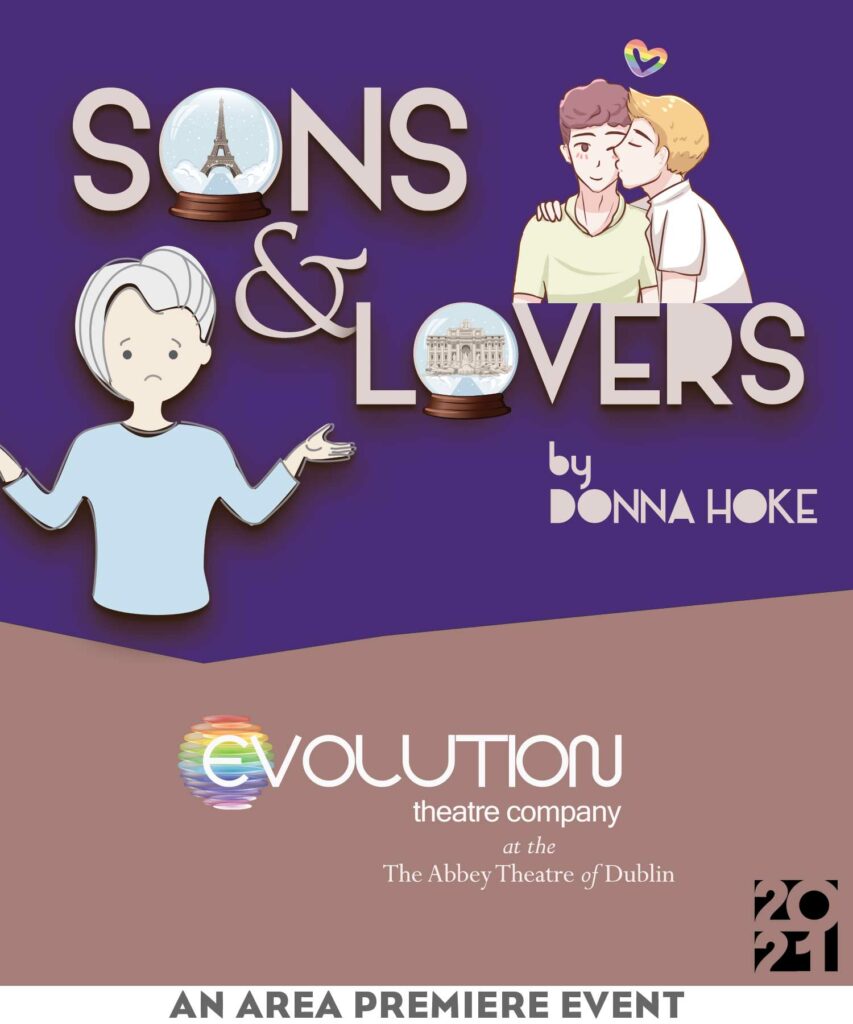 SONS & LOVERS features Amy Anderson, Brad Johnson, Dan Kuhlman, and Todd Taylor.
Performance dates and times:
July 22 (Preview), 7:30 p.m.
July 23, (Opening), 8 p.m. (Choice of in-person or live-stream)
July 24, 8 p.m.
July 25 (Matinee), 2 p.m.
July 28, 7:30 p.m.
July 29, 7:30 p.m. (Choice of in-person or live-stream)
July 30, 8 p.m.
July 31 (Closing), 8 p.m. (Choice of in-person or live-stream)
Tickets are $25 for adults, $20 for seniors 60+, and $15 for students. They may be purchased on the Evolution Theatre Company website www.evolutiontheatre.org or by calling (614) 233-1124.  Evolution Theatre Company conducts its performances in full compliance with the most current CDC guidelines.
The Dublin Arts Council, the Columbus Foundation, and the Ohio Arts Council partially funded this production through community arts grants to encourage community engagement, cultivate creativity, and foster life-long learning through the arts.
About Evolution Theatre Company
Evolution Theatre Company presents works with which the LGBTQQIA community can identify; works that celebrate and validate the community, its present, past and future; works that bring dignity to, and tolerance and acceptance for, the community not only in Columbus but in the country and the world.
We seek to draw audience members into their own experience of theatre, one that will be entertaining, educational, and rewarding.
Through the works produced, we challenge the audience to consider different points of view and alternate values to increase social consciousness and compassion.
Evolution Theatre Company produces small scale, actor-centered plays depicting the comedy and tragedy of the human condition that educate, enlighten, and entertain.  This is accomplished by producing works of artistic and social significance with professional expertise and creative passion. In so doing we have developed an audience which supports such work and gives us opportunities to discover and develop local talent, and to establish an alternative professional theatre in Columbus, OH.
Represented in each season are works by established well-known, lesser known and new emerging playwrights and composers.
Evolution Theatre Inc. prohibits discrimination in employment, access, and programs based on sexual orientation, gender identity, race, sex, ethnicity, origin, disability, religious beliefs or age.
Evolution Theatre Company's Mission Statement
Evolution Theatre Company provides a supportive encouraging environment for celebrating the artistic vision of lesbian, gay, bisexual, transgender, queer, questioning, intersex and ally (LGBTQQIA) individuals, advancing the understanding of gender issues, and fostering the expression of creative performance arts by and about the LGBTQQIA community.
About Abbey Theater of Dublin
Located in the Dublin Community Recreation Center (5600 Post Rd.), the 200-seat Abbey Theater of Dublin offers a wide variety of theatrical and musical performances, movies and lectures at community prices. The intimate venue is perfect for Central Ohio-based performing arts groups to produce outstanding entertainment. Under the direction of Joe Bishara, the Abbey Theater of Dublin has become a destination for theater companies and artists to premiere diverse and inclusive productions featuring artists of all ages for patrons of all ages. Support the arts in your community.
Tickets are available online, at the door, or by calling 614.410.4550.
#
Media Contact:
Shirley Blaine
Public Information Officer
614.230.4683 – Cell
614.410.4523 – Desk
sblaine@dublin.oh.us