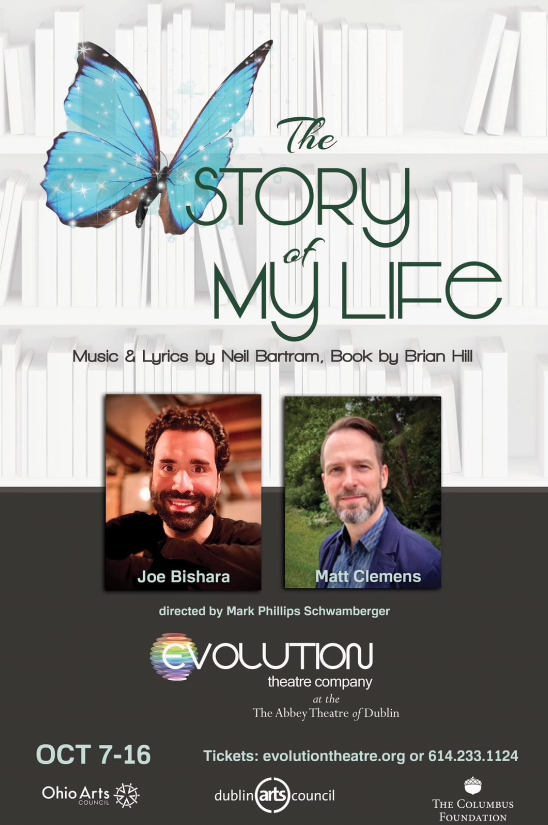 Dublin, Ohio – Evolution Theatre Company, Central Ohio's only professional LBGTQ+ theater company, brings to the stage Broadway performer Matt Clemens and award-winning actor Joe Bishara, Theater Supervisor for the Abbey Theater of Dublin, in a tour de force performance of the two-person musical, "The Story of My Life," by Neil Bartram and Brian Hill.
Both actors appeared in the show's regional premiere in 2012 and are reprising their collaboration in this emotionally charged and heart-warming musical production directed by Mark Phillips Schwamberger, Managing Artistic Director of Evolution Theatre Company, now making its home at the Abbey Theater.
Especially poignant because of the shared history of these two powerhouse performers and musicians, "The Story of My Life" follows a lifelong friendship between two men, Alvin and Thomas, whose childhood bond continues throughout their adult years. The story is told through a series of exquisitely orchestrated songs in turn playful, touching and dramatic. Get your tickets now for the limited run of this MUST-SEE production.
THE STORY OF MY LIFE, starring Matt Clemens and Joe Bishara
directed by Mark P. Schwamberger
Performance dates and times:
7, 7:30 p.m.
8, 8 p.m.
9, 8 p.m.
10, 2 p.m.
13, 7:30 p.m.
15, 8 p.m.
16, 8 p.m.
Tickets are $25 for adults, $20 for seniors (ages 65+) and $15 for students. They may be purchased on the Evolution Theatre Company website EvolutionTheatre.org or by calling 614.233.1124.
Due to the rise in infection rates currently occurring, Evolution Theatre Company will require vaccinations for audience members, as well as performers, backstage crew and theater staff. Masks will also be required for audiences inside the theater, except while eating or drinking in designated locations.
Matt Clemens returns to Columbus after a seven year hiatus to perform with his friend, Joe Bishara, who returns to the stage after an absence of 3 years. This will be the fourth time the acclaimed actors have performed together, previously appearing in "Dirty Rotten Scoundrels," "Chess in Concert" and "Two Men and a Piano."
As musical director and actor they have collaborated in "Evil Dead: The Musical," "Gray Gardens" (Matt also directed), "The Story of My Life" and "Forbidden Broadway: Volume 1" (Joe also directed). As director and musical director, they have collaborated on "I Love You, You're Perfect, Now Change," "A Christmas Carol" and "Hairspray."
Matt has performed on Broadway in "Les Misérables" in New York and toured for seven years with the Broadway National Tour of "Les Misérables." As dance captain and a swing, he performed the show over 3,000 times in New York and across the United States and Canada.
In Columbus, Ohio, Matt performed in "Follies in Concert" (Short North Stage), "Souvenir" (CATCO), "Chess in Concert" (SRO Theatre Company), "Dirty Rotten Scoundrels" (CATCO) and "Sunday in the Park with George" (Short North Stage). He also directed "Grey Gardens" and "Forever Plaid" for CATCO as well as "The Marvelous Wonderettes" and "A Grand Night for Singing" for Short North Stage. Working in theater for over 30 years as an actor, singer, conductor, pianist, music director, composer, director and writer, Matt currently writes, designs and directs shows for Celebrity Cruises, based in Miami, Florida.
Joe Bishara has collaborated on over 200 theatrical productions across the United States as an award-winning actor, director, educator and producer. In addition to his current position as Theater Supervisor for the City of Dublin, Ohio (Abbey Theater of Dublin), he is also the Founder and Managing Director of New Albany Youth Theatre and a Creative Consultant for both Broadway2LA Acting Studio and Evolution Theatre Company. Previous Theatrical stops include: CATCO (Associate Producing Director), Franklinton Preparatory Academy (Theater Instructor), The Phoenix Theatre for Children (Production Coordinator), Wayside Theatre (Assistant Artistic Director) and Act Out Productions (Associate Producer for the inaugural Columbus National Gay and Lesbian Theatre Festival). Joe is a passionate advocate for new theatrical works. He is the creator of the Abbey Theater of Dublin's Virtual Theatre Project, co-founder of the Otterbein Playwrights Collective and served for six years as the Program Coordinator for the Greater Columbus Arts Council (GCAC) Equity Association (AEA), a member of the Musical Theatre Educators' Alliance (MTEA) and an associate member of the Stage Directors and Choreographer Society (SDC).
The Dublin Arts Council, the Greater Columbus Arts Council and the Ohio Arts Council partially funded this production of "The Story of My Life" through community arts grants to encourage community engagement, cultivate creativity and foster life-long learning through the arts.
For more information or interviews, contact David Allen Vargo, Marketing & Communications Director for Evolution Theatre Company, at david@davargo.com or call 954.931.0670.
About Evolution Theatre Company
Evolution Theatre Company presents works with which the LGBTQQIA community can identify; works that celebrate and validate the community, its present, past and future; works that bring dignity to, and tolerance and acceptance for, the community not only in Columbus but in the country and the world.
We seek to draw audience members into their own experience of theater, one that will be entertaining, educational and rewarding.
Through the works produced, we challenge the audience to consider different points of view and alternate values to increase social consciousness and compassion.
Evolution Theatre Company produces small scale, actor-centered plays depicting the comedy and tragedy of the human condition that educate, enlighten and entertain. This is accomplished by producing works of artistic and social significance with professional expertise and creative passion. In so doing we have developed an audience which supports such work and gives us opportunities to discover and develop local talent, and to establish an alternative professional theater in Columbus, OH.
Represented in each season are works by established well-known, lesser known and new emerging playwrights and composers.
Evolution Theatre Inc. prohibits discrimination in employment, access and programs based on sexual orientation, gender identity, race, sex, ethnicity, origin, disability, religious beliefs or age.
Evolution Theatre Company's Mission Statement
Evolution Theatre Company provides a supportive encouraging environment for celebrating the artistic vision of lesbian, gay, bisexual, transgender, queer, questioning, intersex and ally (LGBTQQIA) individuals, advancing the understanding of gender issues, and fostering the expression of creative performance arts by and about the LGBTQQIA community.
About Abbey Theater of Dublin
Located in the Dublin Community Recreation Center (5600 Post Rd.), the 200-seat Abbey Theater of Dublin offers a wide variety of theatrical and musical performances, movies and lectures, and provides a venue for Central Ohio-based performing arts groups. Under the direction of Joe Bishara, the Abbey Theater of Dublin has become a destination for theater companies and artists to premiere diverse and inclusive productions featuring artists of all ages for patrons of all ages.
About the City of Dublin, Ohio, USA
Dublin is a city of more than 50,000 residents located just northwest of Columbus, Ohio. It offers residents and corporate citizens responsive services, attractive housing, superior public education, direct regional highway access, abundant park space, thoughtful and strategic planning, innovative ideas and technology and a dynamic community life. Dublin is consistently ranked one of the safest cities in the nation. It is home to more than 20 corporate headquarters, an entrepreneurial center, 4,300+ businesses, world-class events and the urban, walkable Bridge Street District. For more information, visit DublinOhioUSA.gov or call 614.410.4400.
#
Media Contact:
Shirley Blaine
Public Information Officer
614.230.4683 – Cell
614.410.4523 – Desk
sblaine@dublin.oh.us
Newsroom: https://dublinohiousa.gov/newsroom/