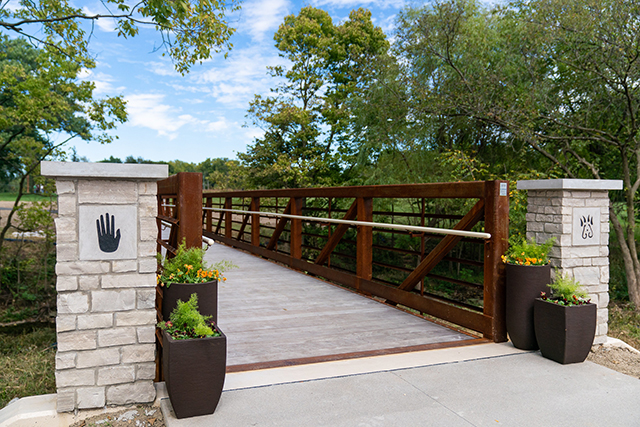 (Dublin) – The City of Dublin along with local and regional partners will host a gathering to celebrate the many cultures that have called Ferris-Wright Park home over the years. The celebration takes place Sunday, October 6, 1 – 4 p.m. at Ferris-Wright Park, 4400 Emerald Parkway.
Located at the northeast corner of Emerald Parkway and Riverside Drive, Ferris-Wright Park preserves and showcases the ancient earthworks, farmhouse and natural features of the space that are a significant part of Dublin's history.
The land surrounding the park has been home to many over the years, from indigenous peoples thousands of years ago to some of Dublin's first settlers and 20th century residents. Ferris-Wright Park contains several earthworks—precise geometric shapes that hold meaning and purpose—constructed by the Hopewell People. An interpretive center located in the historic Ferris family farmhouse honors the past through interactive stations that tell the stories of inhabitants through the years.
The event features:
Historic axe-heads, grinding stones and farm equipment displays by the Dublin Historical Society
Chief Leatherlips and Bill Moose (early inhabitants of Dublin representing the Wyandot Tribe) storytelling by the Linworth Historical Society
Information on earthworks construction, lunar alignments, ancient uses of plants and North American flint types by the Ohio History Connection, Newark Earthworks and Flint Ridge Ancient Quarries & Nature Preserve
Flint knapping (stone chipping technique used to make ancient tools) demonstration by flint knapper Chris Miller
Geological surveying equipment displays by Ohio Valley Archaeology, Inc.
Ancient games related to the atlatl (spear throwing) and double ball (similar to lacrosse)
Hands-on necklace making, flint knapping, sand art and coloring activities
Nature Station featuring historic wildlife, biofacts, crafts and live animals important to indigenous peoples
Additional parking is available at the Cardinal Health offices located at 7000 Cardinal Place. Shuttles will transport guests to the event.
For event updates and to read more about the history of Ferris-Wright Park, visit: dublinohiousa.gov/ferris-wright-park
Media Contact:
Sarah McQuaide, Public Information Officer
614.410.4523 – Desk
614.593.9438 – Cell
smcquaide@dublin.oh.us
Newsroom: https://dublinohiousa.gov/newsroom/