Hansley Served as Dublin's First City Manager from 1987-2001
News Facts:
Get Involved!
Quote
"I am honored to be selected as the 2017 Grand Leprechaun.  It was my privilege to have been the first City Manager and experience Dublin's early growth. The opportunity to volunteer as a Community Service Officer is my way of giving back to the residents and community I love."
– Tim Hansley, 2017 Grand Leprechaun
Talk To Us Directly:
About Us
The City of Dublin will celebrate St. Patrick's Day with the Greenest, Grandest parade on Saturday, March 18, 2017. Dublin's Irish attitude will be on display as more than 100 units travel from Metro Place through Historic Dublin. After the parade, enjoy Irish entertainment at Dublin's restaurants and pubs.  For more information and a complete schedule, visit https://dublinohiousa.gov/events/st-patricks-day-parade/ or contact Events Administration at 614.410.4545.
Referenced Links
Contact Information:
Mary Jo DiSalvo
Event Administrator
City of Dublin
Phone: 614.410.450
Sara O'Malley
Event Specialist
City of Dublin
Phone: 614.410.4518
Grand Leprechauns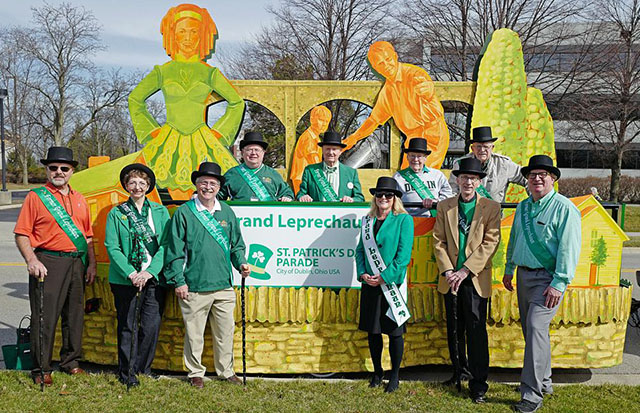 Julie Rinaldi – 2016
Bob Adamek – 2015
Michael Blackwell – 2014
Cap Clegg – 2013
Rich Weber – 2012
Dave and Margie Amorose – 2011
Clayton Rose III – 2010
Tom Sevitz – 2009
Lois Dixon – 2008
A.C. Strip – 2007
Tom and Gayle Holton – 2006
Gene Bostic – 2005
Chi Weber – 2004
Jim Richards – 2003
Herb Jones – 2002
Daniel Sutphen – 2001
Jan Rozanski – 2000
Jack Price – 1999
Don Piunno – 1998
Jim Link – 1997
Bryan Deal – 1996
David Wolfe – 1995
Dr. R.C. Smith – 1994
Sherman Sheldon – 1993
Bill Chambers – 1992
Joseph Dixon – 1991
Robert Karrer – 1990
Catherin Headlee – 1989
Bill Doty – 1988
Edward Thornton – 1987
Lewis Geese – 1986
Clayton Rose II – 1985
George Eger – 1984