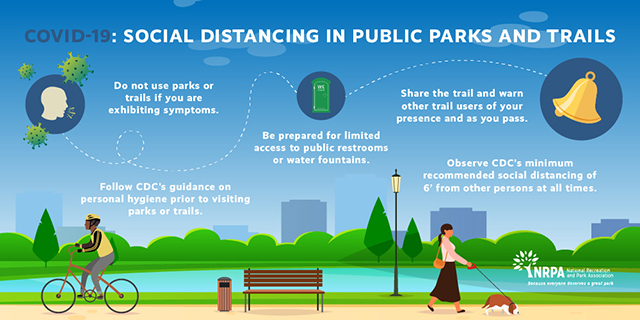 On Sunday, March 22, Ohio Governor Mike DeWine announced a statewide Stay at Home Order effective 11:59 p.m. on March 23 through 11:59 p.m. on April 6. The order includes an exception for outdoor activity, which is considered an essential activity.
Essential outdoor activities include walking, hiking, running or biking in public parks and open outdoor recreation areas—while practicing social distancing.
Public playgrounds are closed to minimize the spread of COVID-19. In addition to playgrounds, the City has closed all park restrooms, basketball courts, volleyball courts, and the skate park as an extra precaution to reduce instances where gatherings of more than 10 people could occur. Tennis courts and pickleball courts remain open, but physical distancing is necessary.
While parks and trails remain open, it is very important to not utilize the playground or other park facilities as they may be a significant way to spread germs. Playgrounds pose a high risk of increased transmission because the virus can live on hard surfaces for extended periods of time. Please make sure children stay off the playground equipment and basketball courts for the safety of your family and to help stop coronavirus community spread.
The Dublin Link pedestrian and bicycle bridge also remains open at this time, with signs at both ends instructing users to practice social distancing.
The City of Dublin encourages residents to follow the National Recreation and Park Association (NRPA)'s recommendations when using public parks and paths:
Refrain from using parks or trails if they are exhibiting symptoms.
Follow CDC's guidance on personal hygiene prior to and during use of parks or trails.
Prepare for limited access to public restrooms or water fountains.
While on trails, warn other users of their presence and as they pass, and step aside to let others pass.
Follow CDC guidance on the recommended size of social gatherings including outdoor picnicking, pick-up sports and other group hangouts, and maintain proper physical distance at all times.
Observe CDC's minimum recommended social distancing of 6 feet from other individuals at all times. If this is not possible, users should find an alternate location or depart that space.
Consult their local and state ordinances and guidelines for the most up to date recommendations on park and trail use.
To view a map of parks and paths in Dublin, click here.
Enforcement Guidelines for Stay At Home State Order
Governor DeWine has given authority to Ohio public health agencies and Ohio local law enforcement agencies to enforce the Stay At Home State Order for the continuation of essential businesses as identified in the order, and for the protection of residents to physically distance themselves in public places and workplaces.
The City of Dublin also strongly encourages our residents to do your part to protect yourself, your family and our community by complying with the Governor and Health Department's Order, especially social distancing – even outdoors (see guidelines for outdoor social distancing). We encourage our public to enjoy the outdoors – playing, walking, running, biking and exercising. It is important to maintain social distancing outside as well as in essential workplaces. Therefore, we are closing certain components of our parks, to include but not necessarily limited to, play equipment, basketball courts, skate park, and public restrooms.
We also ask that groups distance themselves in parks, on walking paths, sidewalks and especially the new Dublin Link Bridge. Our community can access the hundreds of miles of shared-use paths and sidewalks, as well as, the hundreds of acres of parkland and nearby Metro Park in a safe and enjoyable manner.
While it is not the City's desire, we will remind residents of this order, if necessary. These orders are meant to deter, not to penalize people or businesses.
Likewise, we encourage our businesses to comply with this order.
Adhering to the order will save lives and it is the responsibility of every Ohioan to do their part. We are in this together.
For information or questions on coronavirus contact us through the GoDublin app. Please Do NOT call the Police non-emergency line or 911.