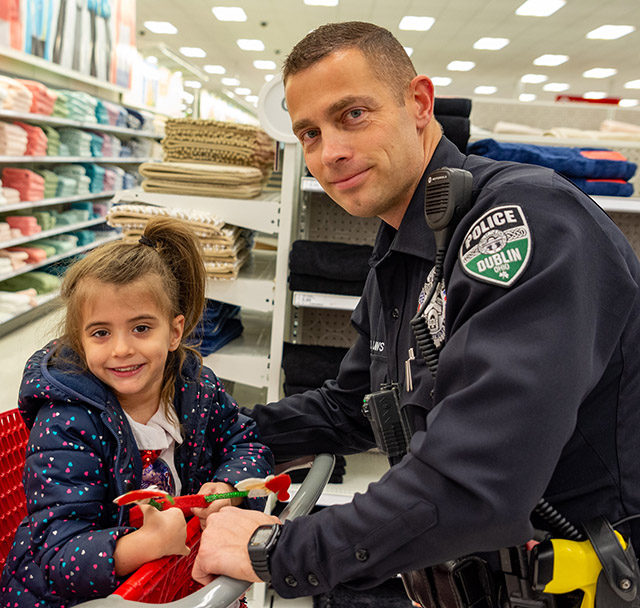 (Dublin) – The Dublin and Powell Police Departments and Liberty Township Fire Department teamed up for the first annual "Helpers & Heroes" shopping event. It took place Saturday, December 14, at 10 a.m. at the Target store located at 10560 Sawmill Parkway in Powell.
Helpers & Heroes is a charitable, holiday-inspired event that seeks to provide resources and gifts to children within the Dublin and Powell communities. Children 14 and under were selected from each participating school district and were paired with an officer or firefighter.
"Dublin Police are honored to partner in this event with the Powell Police Department to help families in need in our communities around the holidays," said Dublin Police Chief Justin Páez. "Having our officers shop one-on-one with these students fosters positive police relations and should provide a great experience for the kids."
"We look forward to collaborating with the Dublin Police Department, Liberty Township Fire Department and Target on the first-ever Helpers & Heroes event," said Powell Police Chief Stephen Hrytzik. "This is a wonderful way to give back to the community, and we hope this becomes a tradition every holiday season."
Funding for the event was provided by generous donations from Target, the Dublin Citizens Police Academy Alumni Association and police officers from Dublin and Powell.
Media contact:
Lindsay Weisenauer
Public Affairs Officer
614.410.4504 – Desk
614.704.9742 – Cell
lweisenauer@dublin.oh.us
Newsroom: https://dublinohiousa.gov/newsroom
@DublinOhio | @DublinPolice | www.DublinOhioUSA.gov
Megan Canavan
Communications Director
City of Powell
614.885.5380
MCanavan@cityofpowell.us
Shop with a Cop