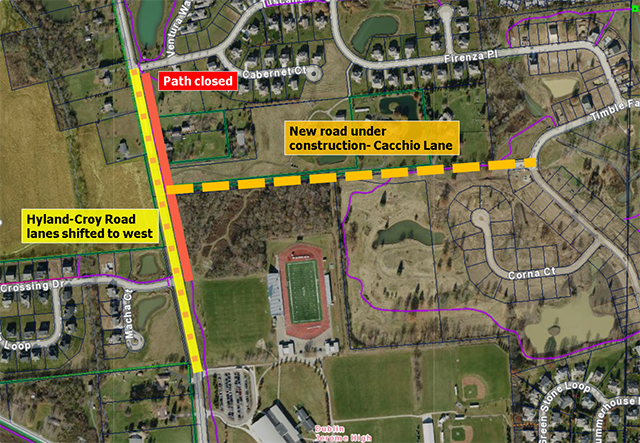 Work is underway on the Hyland-Croy Road/Riviera Connector project, which provides for the extension of Cacchio Lane to Hyland-Croy Road from Riviera subdivision. Hyland-Croy Road will also be modified to provide a southbound left turn lane to Cacchio Lane.
Beginning the week of September 4, drivers on Hyland-Croy Road will notice a lane shift between Tuscany Drive and Dublin Jerome High School. Both the northbound and southbound lanes will be shifted to the west. Two-way traffic will not be disrupted. Additionally, a section of recreation path is now closed along Hyland-Croy road between Tuscany Drive and Celtic Crossing Drive.
This project is scheduled to be complete by June 2019.
#
Media contact:
Lindsay Weisenauer
Senior Public Information Officer
614.410.4504 – Desk 614.704.9742 – Cell
lweisenauer@dublin.oh.us
Newsroom: https://dublinohiousa.gov/newsroom | @DublinOhio | @DublinPolice