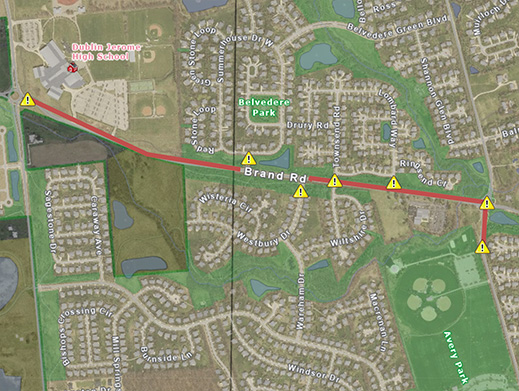 On Monday, May 23, Dublin Jerome High School will host its Senior Class Parade from 8 to 9:30 a.m. In order to celebrate the occasion safely, Brand Road will be closed between the Avery/Brand roads roundabout and the Hyland-Croy/Brand roads roundabout on a rolling basis.
A portion of Avery Road just south of Brand Road will be closed, as the parade will start from the Avery Park parking lot.
Police will close off neighboring roads that connect to Brand Road that are situated between these two roundabouts.
Additional road closures include:
Lombard Way
Townsend Road
Westbury Drive
Abbie Glen
Roads will be closed for approximately 1.5 hours from 8 to 9:30 a.m. Immediately following the parade, Brand Road and the neighboring roads will reopen and operate as normal.
Spectators are encouraged to come and bring their school spirit to watch the parade.