The Killilea Park construction is complete and the renovated playground is now open.
The City of Dublin would like to thank all the residents who provided feedback on the initial design for the Killilea Park playground renovation plans provided on Oct. 20, 2020. The Parks Operations team reviewed the comments and found that many of the common thread requests were for slides, climbing structures, and swings designed for all ages. Additionally, there were requests to keep the gazebo and replace the rubber mulch safety surfacing. Staff took all of these requests into consideration and modified the plan to accommodate as many of these requests as possible, while also adhering to the newest child developmental science models for playground design.
There has been a lot of research in child development and playground use and it has shown that many of the traditional platform and tower type playgrounds lack play elements that provide needed child development movement opportunities. The design has been updated to incorporate many of the comments to produce the hybrid model shown below.
Please take a look at the additional information provided here that will hopefully show some of the science and play goals. Again, thank you for your help to insure the updated design meets yours and other residents' expectations. If you have any further comments on this new design, please fill out the comment form below by Wednesday, Nov. 11.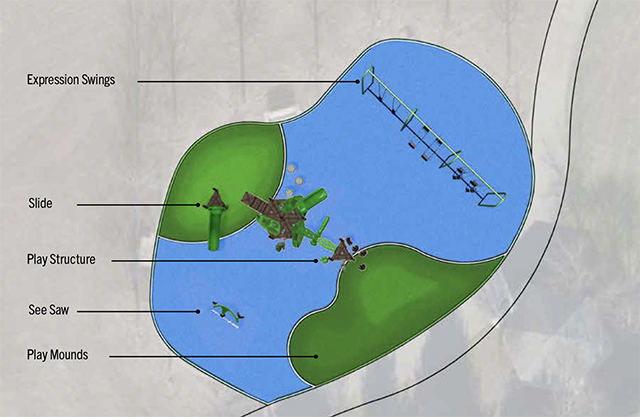 Play Components
Designed for children ages 5-12, this play system encourages creative and social play with a wide range of activities including climbers and slides.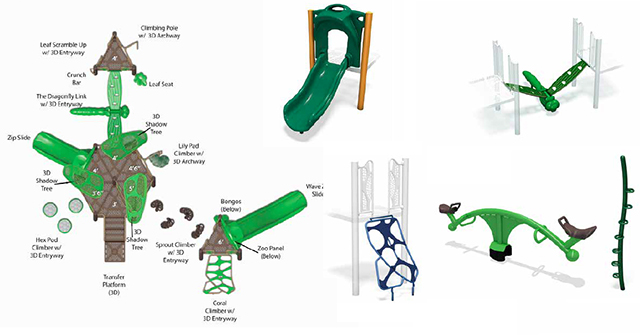 Expression Swings
The expression swing let's you swing with your child eye-to-eye, promoting inter-generational play.

Play Mounds
Playground topography builds in play value by running, crawling, climbing and sliding. The mounds are constructed with foam pads and soft synthetic playground

Playground Development
Playgrounds that use a combination of natural elements and manufactured play equipment tend to be more exciting and challenging to children. Topographical designs encourage children to explore what may be more physically challenging terrain. Play mounds aid in developing a variety of important skills to children. Balance, coordination and strength are just a few skills that help us function in the world at any age.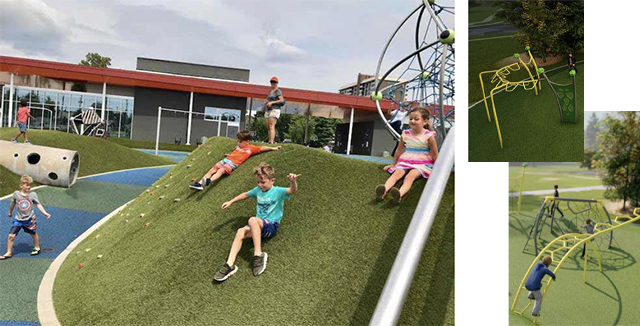 Summit Park, in Blue Ash Ohio, now has a unique play area featuring Playground Grass™ by ForeverLawn®. This distinct attraction was created using 3,300 square feet of Playground Grass Ultra to create mounds that the kids could run, roll, and play on. The kids favored the mounds 10:1 over new equipment!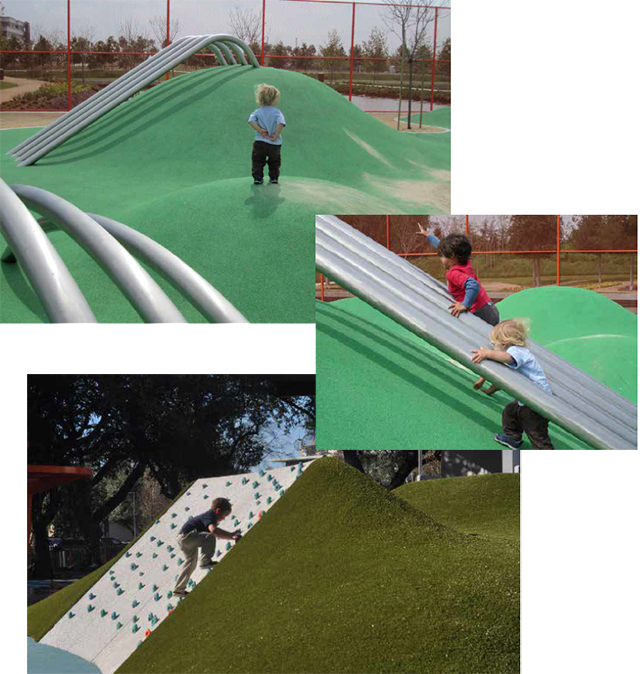 They both went at their own pace and ability: Emerson hugged the two rails as he hiked up the mountain and then needed assistance to get back down, only to climb back up again; Liam climbed up quite easily and found ways to slide or climb back down. They both loved being the kings of the mountain. It was so fun to watch.
Here are the renderings that were originally proposed.