(Dublin, OH) – Stuart E. Staples, 6246 Hoss Lane , Dublin, OH, age 83, missing since yesterday morning at 6 a.m., has been found safe in Hillburn, New York, Rockland County, and is with New York State Police waiting for his family to take him home.
###
Media Contact:
Sue Burness, Public Affairs Officer
sburness@dublin.oh.us
Office: 614.410.4508
Mobile: 614.226-5382
Twitter: @sueburness @dublinohio @dublinpolice
Newsroom: www.DublinOhioUSA.gov/newsroom
Missing Endangered Adult Alert
Monday, May 20, 10:35 p.m.
(Dublin, OH) – The Dublin Division of Police has issued a missing adult alert for Stuart E. Staples, 6246 Hoss Lane, Dublin, OH, age 83 last seen locally at 6 a.m. Staples is a cancer and dementia patient.
A State Highway patrol officer assisted Staple with a tire change on I-90 in Ashtabula County around 1 p.m. Staples told the trooper he was headed to Long Island, NY. He was last seen east-bound on I-90 from Geneva, OH.
Stuart is a white male with grey hair, brown eyes, height 5'5″, 110 pounds. He is driving a 2009 blue-green Chevy Aveo with tag of FGF8260. He was wearing a red checked shirt and has a bandage on his head.
Any information or sightings please contact Dublin Police at 614.889.1112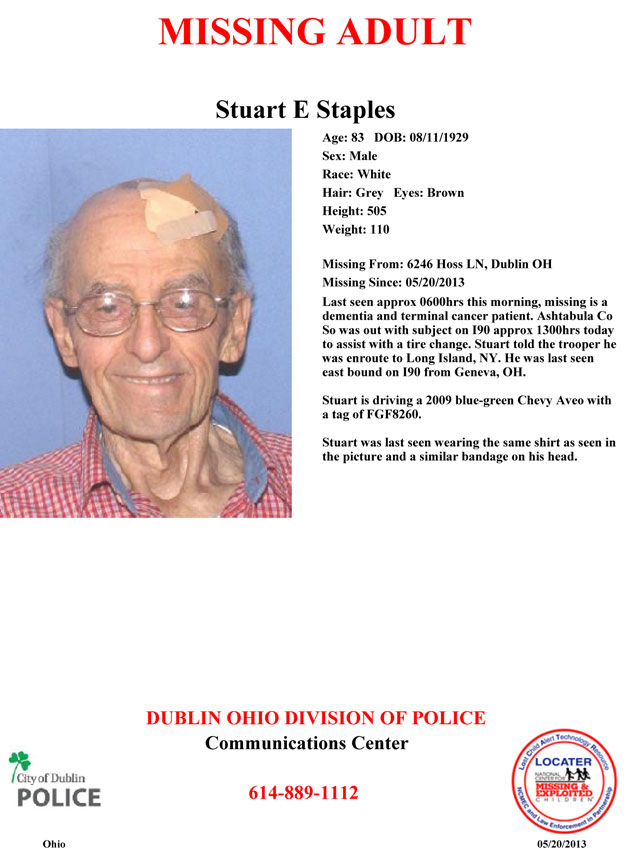 ###
Media Contact:
Sue Burness, Public Affairs Officer
sburness@dublin.oh.us
Office: 614.410.4508
Mobile: 614.226-5382
Twitter: @sueburness @dublinohio @dublinpolice
Newsroom: www.DublinOhioUSA.gov/newsroom