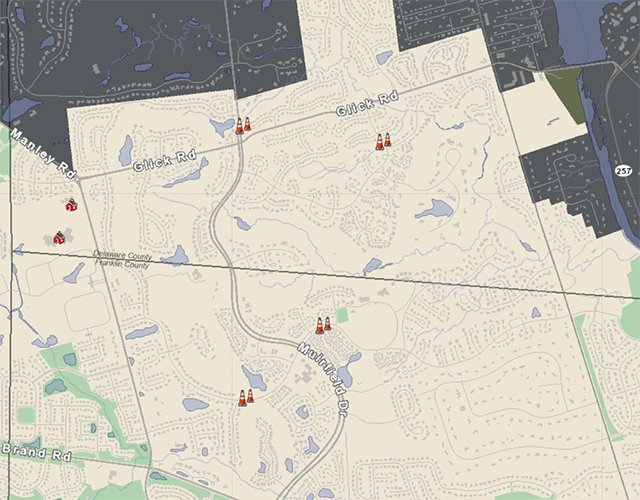 Tunnel improvements will be taking place in various locations in the Muirfield area in early 2018. Work is expected between February and late May in four locations – The Aryshire Drive tunnel, Memorial Drive tunnel at Cartney Court, Memorial Drive tunnel near Holyrood Court and the Concord Road tunnel.
Beginning the week of April 23, lane restrictions are expected between 7 a.m. and 7 p.m. in two locations- Memorial Drive near Holyrood Court and Concord Road north of Glick Road. Two-way traffic will be maintained with flaggers. Short delays are possible.
Paths and tunnels will be closed during improvements at each location.
The pedestrian tunnel near Memorial Drive and Holyrood Court will close March 26 for path and tunnel maintenance. This path will remain closed off and on for several weeks.
The pedestrian tunnel at Concord Road will remain closed through the week of May 14.
The pedestrian tunnels at Aryshire Drive and Cartney Court will close May 9 for  approximately one or two days for painting.
###
Media contact:
Lindsay Weisenauer
Senior Public Information Officer
614.410.4504 – Desk
614.704.9742 – Cell
lweisenauer@dublin.oh.us
Newsroom: https://dublinohiousa.gov/newsroom
@DublinOhio | @DublinPolice | www.DublinOhioUSA.gov