It's time once again for the City's Dublin Irish Festival, which means Coffman Park will soon transform into the largest three-day Irish festival on the planet, August 2 – 4. Here's what residents and commuters need to know.
At the Festival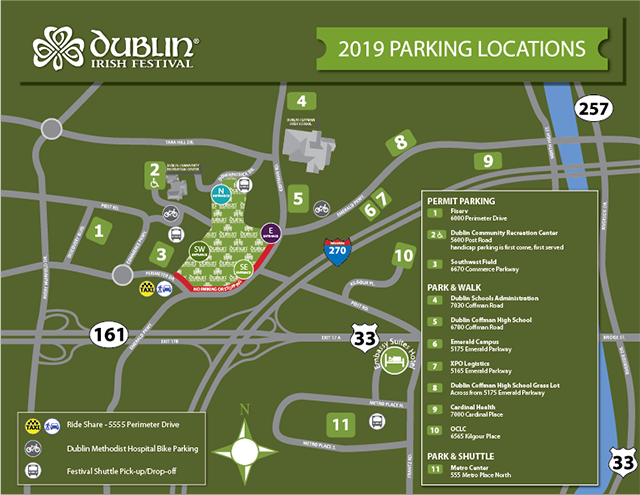 Drive, walk, rideshare, bike or bus—visit dublinirishfestival.org for parking and shuttle information. Get $10 off your Lyft ride from anywhere in Ohio using the code DUBIRISH2019.
From creating your own custom schedule to mapping out which stages are where in Coffman Park – download The Official Dublin Irish Festival Mobile App for Android and iPhone and you'll have everything you need in the palm of your hand. Opt-in for Push Notifications to stay in the loop on important updates, fun giveaways, schedule changes, and emergency information all weekend long.
On the Road
From Monday, July 29 through Tuesday, August 6, Coffman Park Drive is closed from Post Road to Emerald Parkway.
On Thursday, August 2 from 6:30 – 8:30 p.m. several roads are impacted by the City of Dublin's Dub Crawl and the IGS Energy/Dublin Irish Festival 5K & Kids Dash.
Dublin Community Recreation Center
While Coffman Park Drive is closed, members can access the DCRC via Post or Downpatrick Roads. The DCRC will have limited hours and parking during the festival:
Friday, August 2 – 5:30 a.m.-2 p.m.
Saturday, August 3 – 7-10 a.m.
Sunday, August 4 – Closed
Dublin City Hall
Dublin City Hall closes early at 3 p.m. on Friday, August 2.
About the Dublin Irish Festival
Irish attitude is all you need to experience the Dublin Irish Festival in Dublin, Ohio, USA. For 32 years, the first weekend in August has been reserved for what is now the world's largest three-day Irish celebration. More than 100,000 guests are expected to attend Aug. 2, 3 & 4 – 2019. With seven stages, 75 acts and more than 800 performers, there is truly something for everyone. For more information, please visit dublinirishfestival.org.