Current Status: Under Construction
April 2021 Update: Fencing is in place and lighting is installed. Next steps are the court gates installation and laying the play surfacing top coating (when temperatures are 50 degrees and above through the night for curing purposes).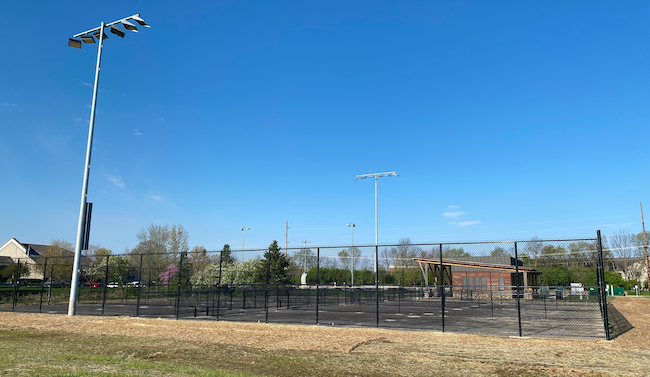 Background
The City of Dublin will soon be home to eight new dedicated pickleball courts. Located south of Perimeter Drive near the Justice Center and Coffman Skate Park, these courts will be part of the Coffman Park amenities.
The courts will be initially temporarily lined for play with the final acrylic top coating set to be completed in spring 2021 when the weather is warmer.
The eight pickleball courts will be lit and surrounded by a 10-foot black chain-link fence with 4-feet of fencing between the courts. A windscreen will be installed on the fence to reduce noise, visual distractions and the influence of the wind, which will improve the players level of concentration and will make the game enjoyable for all skill levels.
The asphalt has been installed and fencing and electrical lighting systems are the next steps for crews to finish the courts. The recent streak of warm weather provided optimal conditions and the City of Dublin anticipates that the courts will be ready for initial play in late November or early December.
The project is expected to be completed by spring 2021 when the courts will get their final coating and the disturbed lawn area will be re-established.
The new Coffman Park pickleball courts will be on a  first come/first served basis. There will be no reservation system and it will be free to play. If all of the courts are being used at any given time, each court will have a system by which the next waiting players place their paddles in a rack to designate who is next to play. Each game typically lasts about 15 minutes, so teams should rotate out quickly giving everyone a chance to play.
In addition to these eight new dedicated pickleball courts, the Dublin Community Recreation Center offers six indoor pickleball courts, and several tennis courts are lined for pickleball in Dublin parks. Due to the coronavirus pandemic, advanced registration is required to play in order to maintain physical distancing and allow for contact tracing. DCRC members can play for free and non-members can purchase a daily pass from the front desk.
Pickleball was created by three U.S. Congressmen in 1965 when they didn't have the right equipment to play badminton. The family dog, Pickles, would chase after the ball and hide it in the bushes, giving the sport its original name of Pickle's ball. The name was later shortened to Pickleball when it gained popularity with families across the U.S. in 1970.
Pickleball is growing in popularity as it is easy for is all skill levels to pick up a quick game. Pickleball is a paddle sport played with a whiffle ball on a badminton-sized court and a tennis-style net. It is a fun sport that combines many elements of tennis, badminton and ping-pong.
#
Media Contact:
Shirley Blaine
Public Information Officer
614.230.4683 – Cell
614.410.4523 – Desk
sblaine@dublin.oh.us