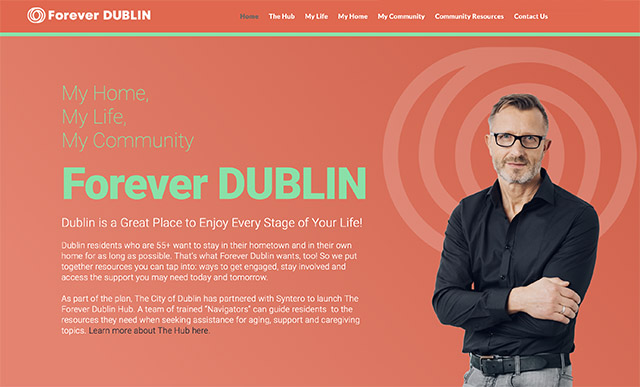 (Dublin, OH) Residents and caregivers can now access a variety of aging resources available to the Dublin community in one convenient place: ForeverDublin.com.
Forever Dublin is a partnership between the City of Dublin and Syntero aimed at providing aging, support and caregiving resources for residents to make Dublin their forever home. The Forever Dublin website features an array of government and nonprofit assistance programs, transportation options, recreation opportunities, education sessions and more.
The website is designed to be a one-stop shop for Dublin residents and caregivers to discover and take advantage of available resources.
In-person assistance is also available free of charge at the Forever Dublin Hub, located at Syntero's Dublin location, 299 Cramer Creek Court. Residents and caregivers may set up an appointment with a trained Navigator by calling 614.889.5722 extension 810.
To learn more and explore the new website, visit ForeverDublin.com.
Media Contacts:
Shirley Blaine, Public Information Officer
City of Dublin
614.410.4523 – Desk
614.230.4683 – Cell
sblaine@dublin.oh.us
dublinohiousa.gov/newsroom
J. Mariah Beidleman, MA, Director of Communications and Development
Syntero
614.457.7876 x. 237 – Desk
614.767.9510 – Cell
mbeidleman@syntero.org
www.syntero.org