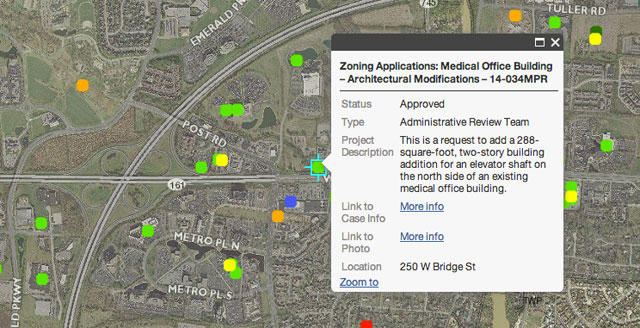 What:New link and easy to access Pending Zoning Applications on our website. You may follow the progress of any pending zoning application here. The Planning Department is responsible for processing zoning applications for the Planning and Zoning Commission, Board of Zoning Appeals, Architectural Review Board, Administrative Review Team, and City Council.
Where: City site: www.DublinOhioUSA.gov
https://dublinohiousa.gov/planning/pending-zoning-applications/
Why: With so many active projects going through the development process – especially Bridge Street District redevelopment – we have made it easy for you to access applications, files and images.
One item of interest – Developer Charles Ruma has recently filed a rezoning and preliminary plan for the redevelopment of Riviera Golf Club for the potential development of the site with up to 244 single family homes. The case is not yet scheduled to be reviewed by the Planning and Zoning Commission.
###
Media contact:
Sue Burness, City of Dublin Public Affairs Officer
614.226.5382   sburness@dublin.oh.us
Newsroom:https://dublinohiousa.gov/newsroom/
Twitter/@sueburness     @DublinOhio   www.DublinOhioUSA.gov