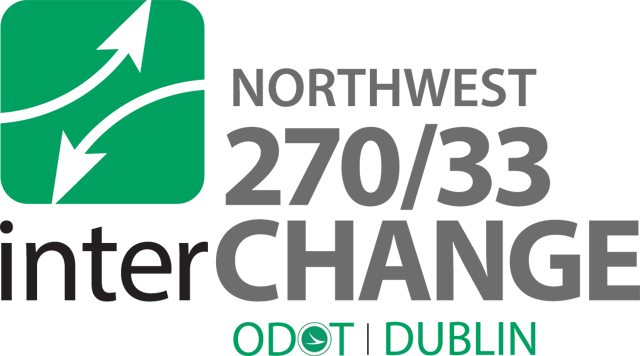 (DUBLIN, Ohio) – The City of Dublin and the Ohio Department of Transportation (ODOT) announced the new logo and timetable for improvements at the I-270/US 33 Interchange at a luncheon at the Memorial Tournament today.
Speakers included: Marsha Grigsby, Dublin City Manager; Alex Fischer, President and CEO of the Columbus Partnership; Thom Slack, Planning & Engineering Administrator for the Ohio Department of Transportation; and William Murdock, Executive Director of the Mid-Ohio Regional Planning Commission (MORPC).
"It is cooperation that allowed this project to start 12 years earlier than anticipated, and it is cooperation that will help ensure that these improvements go smoothly," Grigsby said. "Great things are coming for Dublin and the region."
The speakers shared a message that their agencies are working together to ensure there will be constant communications, project updates, and alternative routes offered. Work will begin in early 2015 and is expected to be completed in 2017. Information updates will be available at www.27033interchange.org
In anticipation of the improvements which could start in eight months, the group offered suggestions that could help alleviate congestion problems during the process.
MORPC provided information on RideSolutions, a transportation program that can help companies and agencies find better solutions for their employees during the construction and beyond.
Companies can also ask for a project briefing and discussed preferred communication methods by emailing ODOT at D06.CustomerService@dot.state.oh.us
The I-270/US 33 interchange was built in the mid-1960s when Dublin was a rural community. The area is an important gateway into Franklin County and the interchange needs to be updated to keep up with the growing economy.  Over the next 20 years, this section of the Northwest Columbus Region is projected to add another 40,000-plus jobs and more than $2 billion in investment.
#
Contacts:
Jodi Andes
Dublin Senior Public Information Officer
614.704.9742 (mobile)
614.410.4504 (office)
jandes@dublin.oh.us (email)
@DublinOhio/@DublinPolice (twitter)
Newsroom:https://dublinohiousa.gov/newsroom/
Sue Burness
Dublin Public Affairs Officer
614.226.5382 (mobile)
614.410.4508 (office)
sburness@dublin.oh.us (email)
@dublinohio @sueburnes
Newsroom: https://dublinohiousa.gov/newsroom/
Lynn Robinson
MORPC
Manager, RideSolutions
Desk 614-233-4129.
Office Cell 357-9987
www.morpc.org\ridesolutions
lrobinson@morphc.org
Nancy C. Burton
District 6 Public Information Office
W 740-833-8063
C   614-205-3131
Email: Nancy.Burton@dot.state.oh.us