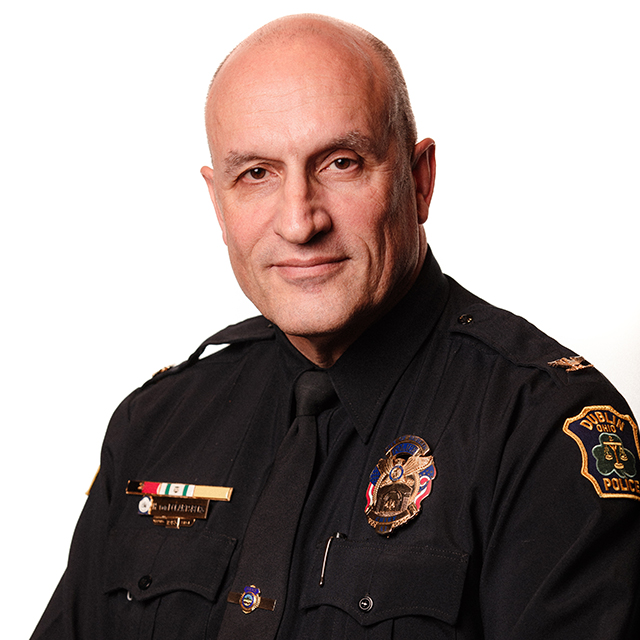 Retirement Celebration – Thursday, April 4
The public is invited to celebrate the great career of Dublin Police Chief Heinz von Eckartsberg. The City of Dublin will be holding a retirement celebration on Thursday, April 4, from 3:30 – 7 p.m. at the Dublin Community Recreation Center. All are invited to come say thank you after 36 years of dedicated service.
Police Chief Heinz von Eckartsberg Announces Retirement from City of Dublin
After 36 years serving the Dublin community as a member of the police department, Chief Heinz von Eckartsberg has announced his retirement to accept a position with the Ohio Bureau of Criminal Investigation as Assistant Superintendent. The Chief's last day with the City will be Friday, March 22.
Chief von Eckartsberg began his career in Dublin in February, 1983.
During his career Chief von Eckartsberg served as a patrol officer, patrol sergeant, operations commander, services bureau commander, and Chief of Police. Dublin City Manager Marsha Grigsby appointed him as chief in March of 2011. Chief von Eckartsberg is Dublin's sixth chief, and the fourth Chief of Police since Dublin became a City in 1987. Former Chiefs of Police include Harold Rose, Robert Mayer, Ron Ferrell, Rob Geis, and Mike Epperson.
"We thank Chief von Eckartsberg for his dedication and service to the Dublin community," said Dublin City Manager Dana McDaniel. "He is a model public servant who has provided outstanding leadership to the agency, this City and the profession as a whole. He has taken the Dublin Police Department to ever higher levels of professionalism and accomplishments. We are grateful for the service and sacrifices of both Heinz and his family."
McDaniel said Deputy Police Chief Justin Paez has been named Interim Chief of Police, effective upon Chief von Eckartsberg's retirement. Paez became Deputy Police Chief earlier this year.
Chief von Eckartsberg leaves a department that is staffed with 72 sworn officers, and 113 total personnel. The agency has been accredited through the Commission for the Accreditation of Law Enforcement Agencies (CALEA) since 1990, and was most recently re-accredited in 2018 with the designation of "Accreditation with Excellence," the highest recognition offered by CALEA. In addition, the department's communications center, (the Northwest Regional Emergency Communications Center, or NRECC) also received CALEA recognition as an accredited Public Safety Communications Center, a first for a central Ohio agency.
"In my career, I have been fortunate to have worked with what I consider to be the best group of public safety professionals in Ohio. I am proud of what we have accomplished over the years, and I am confident that the City of Dublin, and the Dublin Police Department are poised for more great accomplishments in the future."
During Chief von Eckartsberg's term as Chief of Police the Police Department's accomplishments have included:
The growth of the agency from 90 total personnel in 2011 to its current strength of 113 staff.
The design and construction of a completely renovated Justice Center, including an 18,000 sq. foot addition, to position the agency for future growth.
The creation of a Community Impact Unit to address street crimes, traffic safety and community concerns.
Accomplishing dual accreditation with the Commission for the Accreditation of Law Enforcement Agencies, the only agency in Central Ohio to receive this designation.
The creation of the Northwest Regional Emergency Communications Center (NRECC), a consolidated communications center serving the cities of Dublin, Hilliard, Upper Arlington and Washington and Norwich Townships.
A continuing overall decline in crime for the last 8 years.
The designation as Ohio's Safest City (2017) and one of the 50 safest cities in the US (2014).
The creation of the Dublin Police Citizens Police Academy.
Continued outreach to the Dublin Community, including its minority communities.
A focus on addressing the opiate problem and the underlying drug problems driving crime in the city.
An ongoing commitment to the department's mission of service, safety, and crime reduction.
About the City of Dublin, Ohio, USA
Dublin is a city of more than 49,000 residents located just northwest of Columbus, Ohio.  It offers residents and corporate citizens responsive services, attractive housing, superior public education, direct regional highway access, abundant park space, thoughtful and strategic planning, innovative ideas and technology and a dynamic community life. Dublin is consistently ranked one of the safest cities in the nation and in 2015 was named one of America's Top 20 Creative Class Cities.  It is home to more than 20 corporate headquarters, an entrepreneurial center, 4,300+ businesses, world-class events and the urban, walkable Bridge Street District. For more information, visit DublinOhioUSA.gov or call 614.410.4400.
###
Media Contact:
Sue Burness
Director Communication & Public Information
sburness@dublin.oh.us
614.226.5382
Twitter @sueburness | @dublinohio | www.dublinohiousa.gov