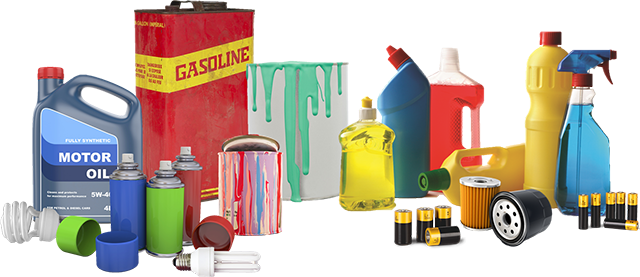 Now that the fall season is wrapping up, it is a good time to take stock of any excess chemical products or wastes from summer projects or other maintenance activities and decide what can stay and what can go. First, look for ways to store excess materials for future use, or perhaps donate what you can't use to your neighbors, family or friends. If something must be disposed of, check to see if it is considered a hazardous waste. This is easy to do by simply looking for key words on the container such as poison, danger, caution, flammable, corrosive or "use in a well-ventilated area." These types of products are considered hazardous and should never be thrown in the trash or poured down a drain as they can end up contaminating our soil and water. Some of the most common household hazardous wastes include:
lawn fertilizers
pesticides
pool chemicals
oil-based paints and stains
cleaners
used fluids (oil, gas, antifreeze) from engine maintenance
In Franklin County, the best way for residents to dispose of these household wastes is through mobile collection events or at the Solid Waste Authority of Central Ohio (SWACO) Household Hazardous Waste Center. SWACO holds a Household Hazardous Waste event in Dublin every spring. Details on the 2018 events are to be determined.
For additional information on safe disposal and drop-off options visit http://www.swaco.org/195/Household-Hazardous-Waste
Importance of Proper HHW Disposal Video
Franklin County Commissioner Marilyn Brown shares the importance of properly disposing of Household Hazardous Waste in Franklin County.