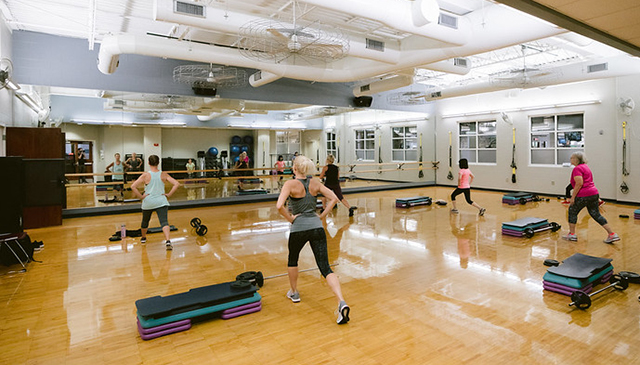 Update Aug. 10, 2021:
At this time, Franklin County has been ranked a high transmission area by the CDC. That means masks are recommended indoors and in crowded areas regardless of vaccination status. Franklin County Public Health has also issued a mask advisory until further notice recommending everyone wear a mask indoors and in crowded areas regardless of vaccine status to stop the spread of COVID-19 and the Delta variant. COVID-19 Resource Hub
Signage will be posted as a reminder. As we have done throughout the pandemic, we will continue to prioritize your quality of life by providing a clean and safe environment.
Original Update:
We are excited to welcome you back into the DCRC and at our outdoor pools under more normal operations this summer. Over the past year, we have built brand new reservation systems, adhered to capacity restrictions and provided a safe environment for our members and staff. Thank you for your contribution to keeping our facilities open!
On May 12, 2021, Governor DeWine announced that most public health orders would be lifted June 2, including face coverings protocols, social distancing guidelines, and capacity restrictions. On May 17, new health orders were released lifting restrictions on physical distancing and mask wearing for those individuals who have been fully vaccinated. Our Recreation Services staff has evaluated logistical requirements to align with those changes and has determined our staffing requirements to return our operations as close to normal as possible.
We are excited to announce our plans for continuing to operate safely with our members and employees' safety at the forefront.
Beginning Saturday, May 29:
Face coverings are no longer required in the DCRC or at the outdoor pools for fully vaccinated individuals; unvaccinated individuals are required to continue wearing face coverings while practicing COVID-19 safety protocols. Any member or guest is welcome to continue wearing masks for their own comfort should they choose to do so.
Advance reservations for time blocks to use the DCRC and outdoor pools are no longer required.
Temperature checks are no longer required upon entry.
Specific to the DCRC:
Full locker room amenities, including all showers, will be available.
Gymnasium equipment will be available and full court play can resume.
Abbey Theater indoor, in-person events will shift from 25% occupancy to 50% occupancy.
The Senior Lounge will open June 3. More specific details will be communicated to DCSC members.
Staff are working towards re-opening the Teen Lounge with a pass system in place. Any teen, ages 13-18 may use the space during operating hours, but everyone will be required to scan a membership card in and out. Membership IDs can be picked up at the DCRC front desk and are available at no cost.
What's staying in place at the DCRC?
Individual use of spray bottles and towels for use on the fitness floor.
Land group fitness classes will continue to have online registration, however it is no longer required. Passholders or guests will be able to drop in for classes until class capacity is reached.
Upright bikes will remain in the lobby behind the check-in desk (to be returned to the Fitness Floor during late August shutdown).
Maintaining our cleaning protocols in each area to continue providing a clean and safe environment.
Specific to Dublin Community Pool (DCP) North and South:
All special features will be open.
Guest of Resident daily passes will be available for purchase.
Annual pool memberships are still on sale for Residents & School District Residents and are no longer limited in quantity. A select number of passes are now available for Non-Residents.
Unfortunately, due to COVID-19 shipping delays, the North Pool lounge furniture is delayed and will not be here in time for opening weekend. Members and guests will need to bring their own chairs.
For more specific information regarding the operation of the Community Pools, visit our website.
Staff are preparing to open the Ballantrae Community Park Spray Fountains as soon as possible. Please visit our website for updated information and an opening date.
Our staff would like to thank you for being a part of our wonderful community and we look forward to seeing you soon!