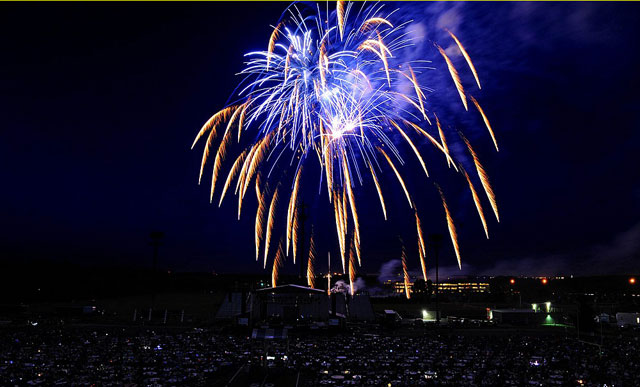 (Dublin, Ohio) — The City of Dublin will host its annual community-wide Independence Day Celebration Monday, July 4.
The daylong celebration begins at 8 a.m. with the 36th Annual Sherm Sheldon Fishing Derby taking place at Avery Park Pond (7401 Avery Road). A traditional parade will follow at 11 a.m. in Downtown Dublin. The day will conclude with evening performances headlined by the lead singer of Rascal Flatts, Gary LeVox, at Dublin Coffman High School along with a spectacular fireworks show presented by The Ohio State University Wexner Medical Center beginning at 9:50 p.m. Presiding as the Grand Marshal over the lineup of activities is Jenny Amorose, Dublin Chamber of Commerce's chief operating officer.
Back this year, parade participants will pass out candy to spectators along the parade route. At the evening celebration, there will be a Kids Zone located just outside stadium gates. Guests can purchase a ticket for children ages 2-12 to have unlimited play from 4:30 to 9:30 p.m. at the Evening Celebration. Stadium access tickets are available for purchase online or at the Dublin Community Recreation Center for Dublin residents and school district residents. Starting Friday, July 1, stadium access tickets will be available to the general public.
The City of Dublin is accepting volunteer applications for the Independence Day Celebration. Those ages 14 and older can apply online to assist with the parade and Evening Celebration.
Parade Traffic Impacts
From 10:30 a.m. to 12:30 p.m., the following closures will be in effect. Exit 17A off of I-270 will be closed. S.R. 161 between Exit 17A southbound exit to the Riverside Drive roundabout and Riverside Drive from S.R. 161 to John Shields Pkwy. Additional closures are expected, visit DublinOhioUSA.gov for more information. Please follow all detours.
Evening Celebration Traffic Impacts
Parts of Emerald Parkway will be closed between 9:30 and 11 p.m. before and after the fireworks show. Keep in mind that northbound Dublin Road is closed for construction work on the Deer Run force main sewer system. Dublin Police will direct traffic at the conclusion of the event. Guests will need to follow the designated exit routes from their parking lot after the event. Those looking to head north on Coffman Road following the event should park in lot three.
Schedule of Events
8 a.m. | Sherm Sheldon Fishing Derby presented by Nationwide Children's Hospital
Location: Avery Pond (corner of Wynford Drive and Avery Road)
11 a.m. | Independence Day Parade presented by COSI
Location: From Metro Center to Historic Dublin
4:30 p.m. | Evening Celebration & Fireworks
Location: Dublin Coffman High School, 6780 Coffman Road, Dublin, OH 43017
4:30 p.m.                   Gates Open
4:45 – 5:15 p.m.        338th Army Band
5:45 – 6:15 p.m.        Dusty Black
6:45-7:25 p.m.            Temecula Road
7:30 – 7:45 p.m.        Introduction of Dublin City Council and Grand Marshal Presentation
8:15 -9:45 p.m.          Gary LeVox
9:45 p.m.                    National Anthem Sung by Reese McIntyre,
2022 Dublin Coffman High School Graduate
9:50 p.m.                    Fireworks
presented by The Ohio State University Wexner Medical Center
Evening Celebration General Information
Food and non-alcoholic beverages may be brought into the stadium. Coolers and bags will be checked by security personnel upon entry. Food and non-alcoholic beverages will be sold at the event.
Prohibited Items
All bags will be checked upon entry. Items and activities not permitted inside of the stadium includes drones, alcohol, fireworks of any kind including sparklers and candles, glitter and confetti, pets (except service animals), smoking (including e-cigarettes), gum, tarps, rollerblades, bikes, skateboards, scooters, tents, beach umbrellas, grills and the solicitation or distribution of promotional items.
For more information about this event, please visit DublinOhioUSA.gov/events, and follow the City of Dublin on Facebook, Twitter, Instagram, LinkedIn, and Nextdoor.
#
Media Contact:
Erin Santa
Events Coordinator
614.738.1582 – Cell