(Dublin, Ohio) – The City of Dublin's Dublin Irish Festival 5K, presented by IGS Energy, will alter traffic and parking patterns on Thursday, Aug. 4. The 5K will begin at 7 p.m. in Historic Dublin.
South High Street, from Bridge Street to Tuttle Road, will be closed to through traffic from approximately 6:30 to 8:30 p.m. Other roads closed at this time include:
Marion Street
Monsarrat Drive
Longview Drive
Grandview Drive
Karrer Place
Country House Lane
Haymaker Lane
Settlers Place
Residents who live east of South High Street in Historic Dublin will be able to exit to Bridge Street via South Blacksmith Lane during the race.
During the race only, residents on Marion Street, Monsarrat Drive, Longview Drive and Grandview Drive may exit their streets using the City access lane on Monsarrat Drive onto Pebble Creek Drive.
In the case of an emergency or on an as needed basis, Dublin Police will be stationed throughout the route to escort residents out of the area via motorcycle officer.
For more information visit: https://runsignup.com/Race/OH/Dublin/dif5k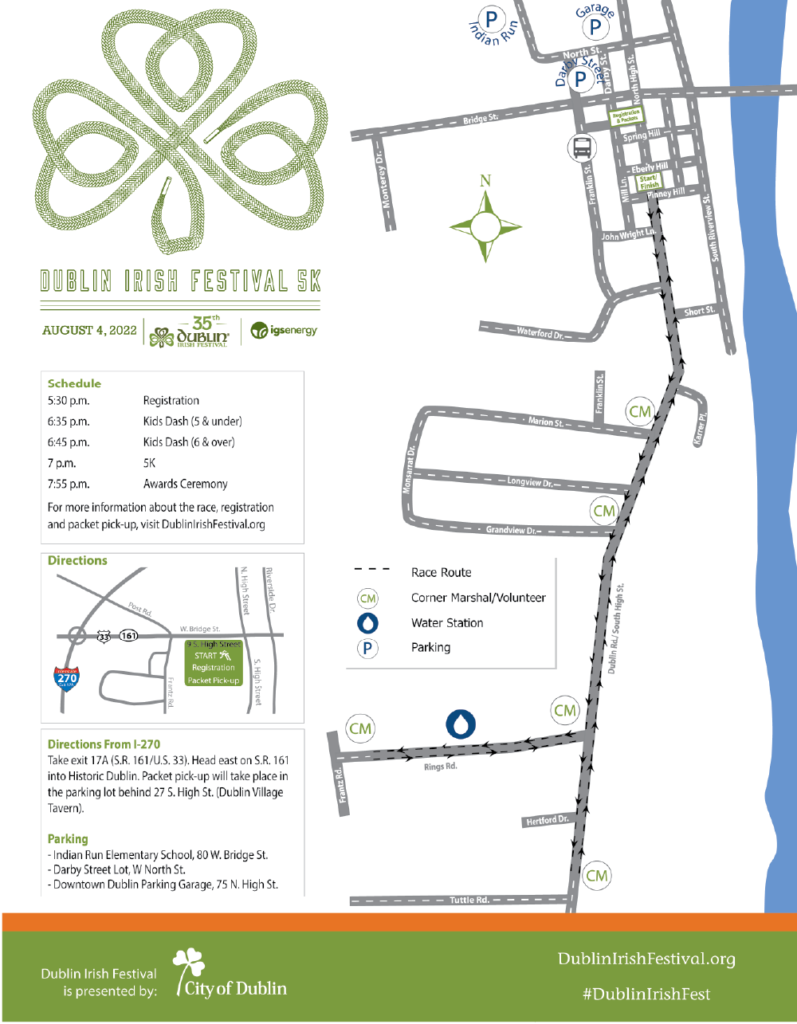 About Dublin Irish Festival
Irish attitude is all you need to experience the Dublin Irish Festival in Dublin, Ohio, USA. Since 1988, the first weekend in August has been reserved for what is now the world's largest three-day Irish celebration. The 2022 Dublin Irish Festival event will take place Aug. 5 – 7, 2022, in Coffman Park and Downtown Dublin. With concerts, Irish dance, shopping, theater and more, there is truly something for everyone. For more information, please visit DublinIrishFestival.org.
Media Contact:
Shirley Blaine
Public Information Officer
614.410.4523 – Desk
614.230.4683 – Cell
sblaine@dublin.oh.us
Newsroom: https://dublinohiousa.gov/newsroom/