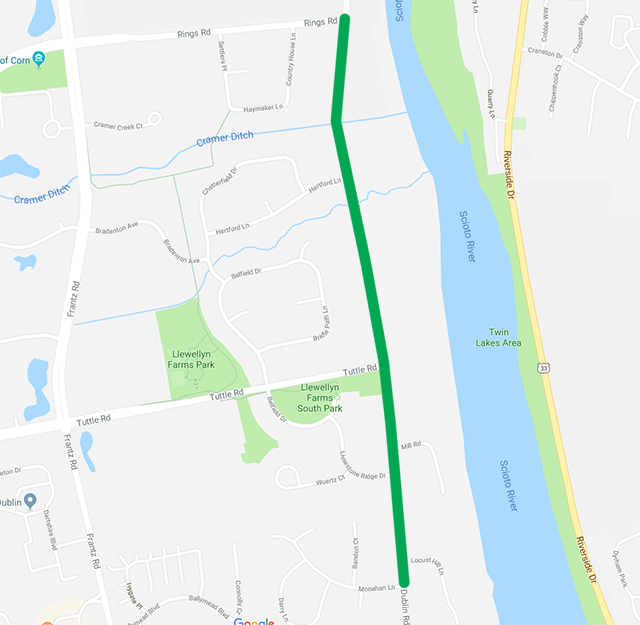 The City of Columbus will be rehabilitating sanitary sewer shafts along Dublin Road between Rings Road and Monahan Lane. Contractor Sunesis Construction will be performing the work, which consists of constructing interior rehabilitation on two shafts along Dublin Road and installing concrete pavers once the interior work is complete.
This work will begin in late January 2018 and take approximately three months to complete. Sunesis
Construction expects to have equipment and crews working in the area beginning in late-January through mid-May 2018.  Work hours may vary but will normally be 7:30 a.m. to 4:30 p.m. There will be parking restrictions in the work zone each day. Your cooperation with the no parking areas is extremely important to keep the job flowing to allow us to move out of your area as quickly as possible.
Sections of the recreation path along Dublin Road will be closed intermittently during this work. The path on Rings Road near Dublin Road could also be closed intermittently.
Residents will be notified directly by the contractor 48 hours prior to work beginning in front of their property. Driveway access will be maintained except for the times the crew is excavating across the front of your driveways. There may be a 4 to 5 hour window when you will not be able to access our driveway with a vehicle. Mail service and trash pick-up service will be maintained during the project.
For questions, please contact:
James Nolen EMHT, Construction Inspection, EMHT, jnolen@emht.com (614)-775-4556
Mike Ferring Sunesis Construction, Contractor, mferring@sunesisc.com (513)-326-6000
Grace Lange Project Engineer, Columbus Public Utilities, Division of Sewerage and Drainage gelange@columbus.gov (614)-645-8630.
Your cooperation and patience is greatly appreciated.