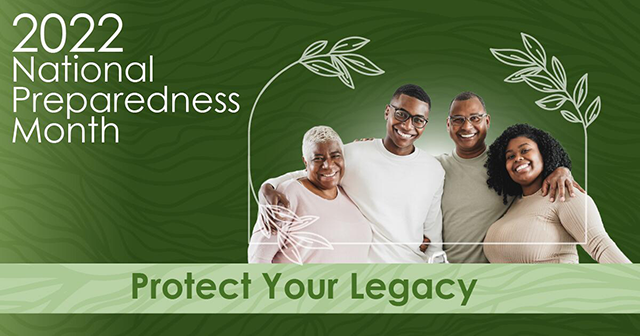 National Preparedness Month (NPM) is an observance each September to raise awareness about the importance of preparing for disasters and emergencies that could happen at any time. The 2022 theme is "A Lasting Legacy: The life you've built is worth protecting. Prepare for disasters to create a lasting legacy for you and your family."
Make A Plan
Talk to your friends and family about how you will communicate before, during, and after a disaster. Make sure to update your plan based on the Centers for Disease Control recommendations due to the Coronavirus.
Build A Kit
Gather supplies that will last for several days after a disaster for everyone living in your home. Don't forget to consider the unique needs each person or pet may have in case you have to evacuate quickly. Update your kits and supplies based on recommendations by the Centers for Disease Control.
Protect Family and Property
Limit the impacts that disasters have on you and your family.  Know the risk of disasters in your area. Learn how to make your home stronger in the face of storms and other common hazards. Check your insurance coverage to make sure it is up-to-date.
Teach Youth About Preparedness
Talk to your kids about preparing for emergencies and what to do in case you are separated. Reassure them by providing information about how they can get involved.
Residents are encouraged to prepare by following these important steps:
Be informed about the risks facing Dublin.
Develop a plan for your family, community and for your pets.
Build an emergency supply kit
Get involved and register for ALERTS at: https://dublinohiousa.gov/emergency-preparedness/dublin-emergency-calling-system/

Citizens can learn about the top risks facing Franklin County and how to prepare for them at fcemhs.org. Automatic weather alerts can be received by registering for ALERT Franklin County at www.alertfranklincounty.org. Residents and visitors can also receive countywide Emergency Management Alerts by texting FCReady to 888777 on their mobile device.
National Preparedness Month was founded after 9/11 to increase preparedness across the United States.  The month is sponsored by FEMA's Ready Campaign in partnership with the Citizen Corps, FEMA's grassroots strategy to bring together government and community leaders to involve all citizens in emergency preparedness planning.
Related Links: