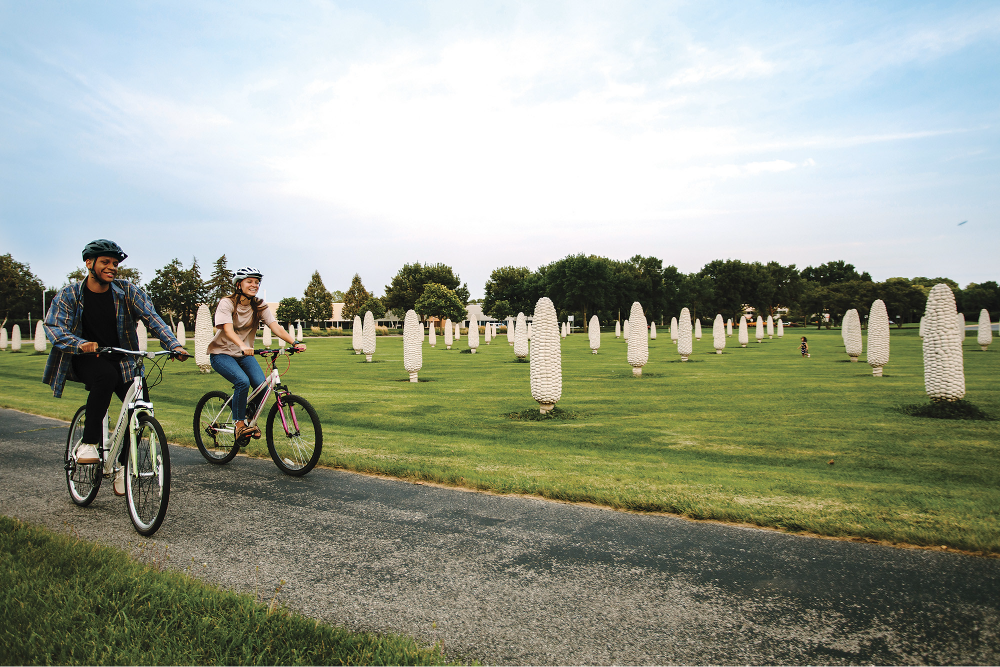 (Dublin, OH) – People for Bikes recently announced its 2021 Bike ranking, which evaluates and compares bicycling in U.S. cities and towns. In this year's ranking, Dublin placed fifth best city overall in Ohio, as well as first for cites over 40,000 residents in Ohio.The 2021 ranking looks a bit different this year. The bike ranking now includes 660 U.S. cities and 107 international cities. The mathematical ranking also had changes as well. In the past, the ranking was out of five points, and now the scoring is out of a 100-point scoring system.
How City Ratings are Calculated
To calculate the ranking, a Bicycle Network Analysis (BNA) is completed. The BNA is a data analysis tool that measures quality and connectivity of the city's bicycle lanes or their bike network. A city's bicycle network is made up of the system of paths, trails and streets that the biker can use. These network score locations include:
Neighborhoods: access to parts of the city where residents live
Opportunity: access to jobs and schools
Essential Services: access to places that serve basic needs, like hospitals and grocery stores
Recreation: access to recreational amenities like parks and trails
Retail: access to major shopping centers
The average network score for all cities in 2021 is 26 out of 100. Dublin's exceeds the national average network score with a total of 34 out of 100.
Included in the BNA is a community score as well, this is calculated through an online survey. The 100-point scale includes four equally weighted categories.
Awareness: how familiar people are with local biking resources and their city's efforts to improve biking.
Network: how well a city's bike network connects people to places they want to go.
Ridership: how often people ride bikes in their city for transportation and recreation.
Safety: how safe people feel riding a bike in their city.
The average community score for all cities in the 2021 ranking was 48. Dublin again exceeded the national average with a community score of 52.
People for Bikes is an organization that aims to ensure bikes are prioritized and positioned as a real solution to improve Americans' health, connect communities, boost local and state economies, strengthen our nation and protect our planet. They have paved the way for communities improve bicycle safety. The People for Bikes rankings allow city leaders and elected officials to identify improvements needed within each city.
The City of Dublin continues to enhance the city's 135 miles of bike paths, bike lanes, and roadways throughout the year. Go out and take a spin on one of the many paths around Dublin using the latest Dublin Bike Map and Parks Guide.
Visit PeopleforBikes.org to find more information on the Dublin, Ohio, USA's city ranking.
#
Media Contact:
Shirley Blaine
Public Information Officer
614.230.4683 – Cell
614.410.4523 – Desk
sblaine@dublin.oh.us
Newsroom: https://dublinohiousa.gov/newsroom/