(Dublin, OH) Dublin residents may soon notice a peculiar vehicle driving down neighborhood streets. Resource International plans to begin a pavement testing project in Dublin as soon as Tuesday, September 15, 2015.
The company, hired by the City of Dublin, will be collecting pavement thickness and condition data to help prioritize upcoming street repairs and determine the most economical pavement treatments for each street. This is the first time the City of Dublin has utilized this technology.
The picture included with this release shows residents exactly what to expect. As you can see, the testing truck is a white truck with sensors mounted to the front and a testing trailer pulled behind.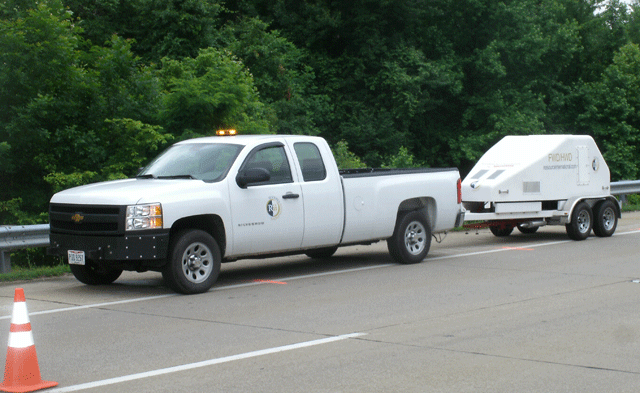 The truck uses radar data to determine pavement thickness and uses a falling weight deflectometer to determine the strength of the pavement structure.
These tests are non-destructive to the pavement and the mobile operations will not interfere with traffic or pedestrians.
Follow @DublinOhio on Twitter for video of the pavement testing once it begins on Tuesday.
#
Media contact:
Lindsay Weisenauer
Senior Public Information Officer
Cell 614.410.4504 – Desk 614.704.9742
lweisenauer@dublin.oh.us
Newsroom: https://dublinohiousa.gov/newsroom