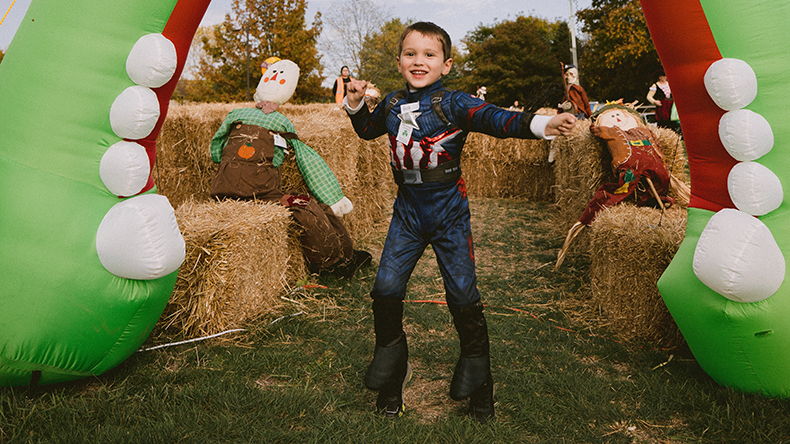 (Dublin, Ohio) — The City of Dublin's annual Halloween Spooktacular will take place from 4-8 p.m. Thursday, Oct. 14, and 1-5 p.m. Friday, Oct. 15, at Coffman Park, 5200 Emerald Pkwy. Free and open to the public, this event is sure to be a "fang"tastic time.
New for 2021, the event has expanded from one day to two days and will encompass a larger part of Coffman Park, providing even more fun for everyone. All activities will take place outdoors and will be spread out to allow for more physical distancing.
The first 30 minutes of each day will be designated as "sensory friendly." During this designated time, lights, sounds and wait times will be reduced to make the event more enjoyable for guests with special sensory needs.
The City of Dublin encourages families to wear their Halloween costumes. For those who want to capture a memory of their little pumpkin this year, Squier Photography will be onsite to take professional portraits that will be available for purchase.
This year's Halloween Spooktacular entertainment will include:
The Trunk or Treat Trail returns this year with some additional safety precautions in place including timed ticketing and more space to allow for physical distancing.
Dublin Dance Centre and Gymnastics will perform their popular haunted show "Boo! Boogie."
Columbus DanceArts Academy will have guests enjoying their energetic Haunted Hip Hop routines.
A professional pumpkin carver will be on hand to show guests how to create amazing works of art, while sharing tips and tricks to make the most gorgeous gourd art.
Guests will want to check out Carroll Baker's magic acts as he strolls throughout the park sharing a little up-close hocus pocus.
Back by popular demand, Cecilia Martyna will create a sidewalk chalk drawing. Cecilia is an award-winning chalk artist from Dublin Jerome High School. Plus, kids will get a chance to get in on the fun!
Other returning favorites include the petting zoo, the Bug Man, the Turtle Lady and more
Wicked Twister, Creepy Corn Hole, Pumpkin Ball Toss and other ghastly games will keep children bewitched.
The east and west shelters will have volunteers on hand to help create creature crafts and bags to collect candy on the Trunk or Treat Trail.
A variety of local vendors will serve food and beverages to hungry goblins and ghouls.
Trunk or Treat Trail Tickets
While Halloween Spooktacular is free and open to the public, free timed tickets are required for participating in the Trunk or Treat Trail. The trail features 20 local businesses and community organizations, handing out candy and treats.
The Trunk or Treat Trail is limited to Dublin residents and Dublin City Schools district residents only. Complimentary timed tickets may be reserved through the City of Dublin's website starting at 9 a.m. Monday, Oct. 11. A limit of five tickets per household. Tickets are not required for adults and infants.
Using the online ticket system, guests can select a 15-minute time slot, ranging from 4:30-7:45 p.m. Thursday, Oct. 14, and 1:30-4:45 p.m. Friday, Oct. 15. Guests should only enter the Trunk or Treat Trail line during their confirmed time slot.
Health/Safety Information
At this time, Franklin County has been ranked a high transmission area for COVID-19 by the CDC. Face coverings are strongly recommended indoors and in crowded areas regardless of vaccination status. Franklin County Public Health has also issued a mask advisory until further notice recommending everyone wear a mask indoors and in crowded areas regardless of vaccine status to stop the spread of COVID-19 and the Delta variant. For more information, visit the City of Dublin's COVID-19 Resource Hub.
Safety recommendations include:
Practice physical distancing from people who do not live in your household.
If you are sick, please stay home. Monitor your health daily.
Wash hands frequently with soap and water or use alcohol-based sanitizer.
Cover your coughs and sneezes.
Get Involved
The City of Dublin is looking for volunteers to help make this an extra spooky event! Those who are interested should sign up online today.
For more information, visit DublinOhioUSA.gov/halloween-spooktacular and follow the City of Dublin on Facebook, Twitter, Instagram, YouTube and LinkedIn.
#
Media Contact:
Shirley Blaine
Public Information Officer
614.230.4683 – Cell
614.410.4523 – Desk
sblaine@dublin.oh.us
Newsroom: https://dublinohiousa.gov/newsroom/