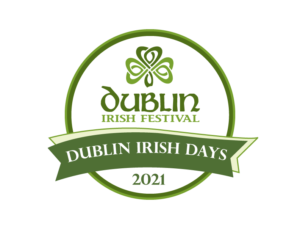 Irish music and dance are bringing us back together in Dublin, Ohio, from Aug. 4-8, 2021. With an innovative format, Dublin Irish Days will be a citywide celebration of all things Irish.
Downtown Dublin will be full of Irish activities throughout the weekend, which will kick off with the Dublin Irish Festival 5K presented by IGS Energy on Thursday, Aug. 5. Dublin's shops and restaurants will offer Irish specials and local Irish musicians and dancers will perform throughout Downtown Dublin on multiple outdoor stages and inside pubs and restaurants during the 4-day DubCrawl presented by Jameson Irish Whiskey. The City has extended the hours of the Downtown Dublin DORA, allowing visitors to shop, sip and stroll throughout the area with alcoholic beverages purchased at participating establishments. The Darby Street Marketplace will feature more than 30 of the most popular vendors from the Festival and families can visit the Wee Folk area presented by Wendy's at the new East Plaza at Riverside Crossing Park, which will have crafts, games and entertainment.
Coffman Park, the traditional home of the Dublin Irish Festival, will host ticketed events. Dublin Irish Festival Concerts will take place Aug. 6-8 and will feature some of the best Irish musicians touring the country.
Concert Lineup
| | |
| --- | --- |
| Gaelic Storm | Fri |
| Eileen Ivers | Fri/Sat |
| Scythian | Sun |
| Seven Nations | Sat |
| The Bryne Brothers | Fri/Sat |
| Rory Makem | Sat/Sun |
| Curley, Hyde & Brokerick | Fri/Sun |
Dublin Irish Festival Concert Hours in Coffman Park
Friday, Aug. 6 from 5 p.m. to midnight
Saturday, Aug. 7 from 4 p.m. to 11 p.m.
Sunday, Aug. 8 from noon to 7 p.m.
*Times subject to change
Dublin Irish Festival Concert Ticket Information
Tickets are limited and available for purchase starting at 9 a.m. Tuesday, July 6.
Tickets are non-refundable.
Lawn seats are available for $15 each. Guests should bring their own chair/blanket.
Tickets are required for children ages 4 and up.
Tickets will be for sale online only, no ticket sales at the gates.
The Abbey Theater of Dublin will produce "The Irish… and How They Got That Way" presented by Giant Eagle Market District at the Coffman Amphitheater at 7 p.m. Aug. 4-8. This Off-Broadway musical features an eclectic mix of Irish music while presenting the history of the Irish in America.
Theater Ticket Information
Tickets on sale starting at 9 a.m. Tuesday, July 6.
Tickets sold as tables of 4 for $60.
Tickets are limited and must be purchased in advance online.
Tickets are non-refundable.
Bands appearing at this year's Dublin Irish Festival Concerts
Fan-favorite Gaelic Storm headlines Friday night's entertainment. This will be one of their first shows back on the road (if not their very first.) This group has topped the Billboard World Chart multiple times with their traditional Celtic music with a modern influence. During this last year, they have hosted a number of very popular live-stream events to keep their fans engaged and they also hold the honor of playing the most times of any International act – this will be their 17th year in Dublin.
With her energetic, joyous and passionate band, Universal Roots, Eileen Ivers continues to celebrate Ireland's global musical influence. Nine time All-Ireland Fiddle Champion, Eileen Ivers has established herself as the preeminent exponent of the Irish fiddle in the world today. Eileen has a long history in Dublin, preforming with Mick Moloney's Green Fields of American back when the festival was a small get-together.
Scythian has made a name for themselves in the music world with their technically brilliant high-energy Celtic roots music. Founded by brothers Alexander and Danylo Fedoryka, Scythian shares their love for the "old time, good time music" of many cultures. Scythian will be releasing a new record this summer.
Seven Nations is not your father's band. With a passionate, tender and rollicking style that veers from roots and folk to dance and fusion rock, Seven Nations has earned a growing reputation as an adventurous band with a charismatic stage presence.
The Byrne Brothers kick off Friday night. They were supposed to be new to the Festival in 2020, but organizers knew they had to be a part of the special celebration this year. This talented young family take it to the next level with their infectious enthusiasm, brilliant musicianship, beautiful dancing and hilarious fun.
A seasoned performer with over 30 years on the road both as a soloist and with other Makem family members, Rory Makem captivates his audience with charisma, passion for the songs, poetry, history and humor. He masterfully plays the guitar, banjo, mandolin and bouzouki.
Curley, Hyde & Broderick Fans of Slide will be happy to see band members Mick Broderick and Dave Curley. They will be joined by Joanna Hyde, Dave's band mate from One for the Foxes. This super-group of musicians will bring a lively mix of songs and tunes. This is also homecoming for Mick as he moved back to Ireland last year after spending many years in Central Ohio.
For more information about the Dublin Irish Days, please visit DublinIrishFestival.org. You can also follow the Dublin Irish Festival for the latest event news on Facebook, on Twitter and Instagram.
#
Media Contact:
Shirley Blaine
Public Information Officer
614.230.4683 – Cell
614.410.4523 – Desk
sblaine@dublin.oh.us
Newsroom: https://dublinohiousa.gov/newsroom/