The Columbus Metropolitan Library, parking garage and street network projects continue to progress. The City and contractor are working to have North Street open by mid-August. The weekend of August 27 – 29, crews will be working to tie in the newly constructed roadway to the Indian Run and Darby Street parking lots. Due to this work, drivers should expect more construction activity. The temporary drive will remain open to traffic, but with intermittent restrictions and delays. Flaggers will be there to direct traffic. Drivers should also expect increased construction dirt and dust. The City thanks you for your patience!
As of June 4, 2018, North Street west of North High Street is closed until mid-August for improvements. The road will be rebuilt as part of the library, parking garage and street network project. Before the North Street closure, the City will open the new Rock Cress Parkway, which is just one block north of North Street and can be used as an alternate route.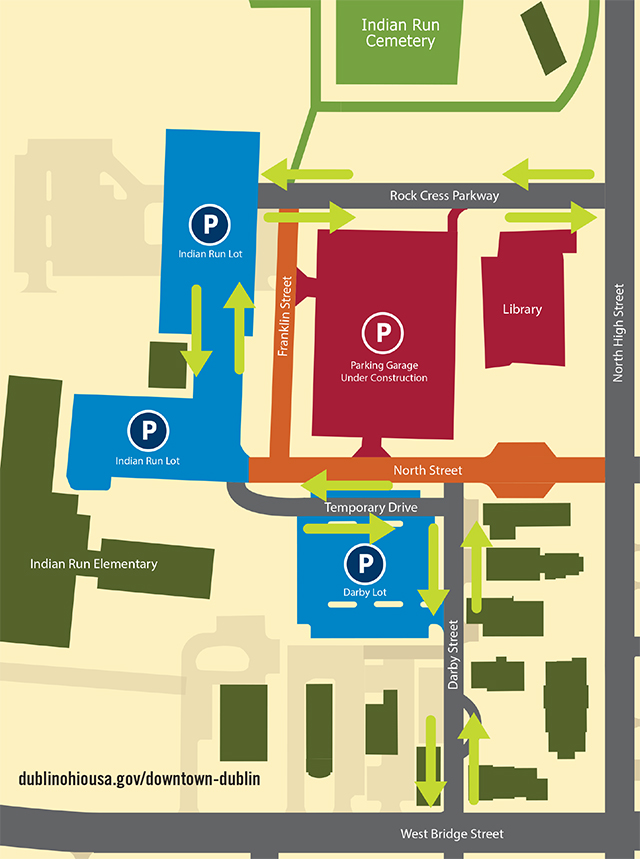 North Street is the small roadway off of North High Street that leads to the City's Darby Street and Indian Run parking lots that serve the Historic District. Access to both lots will be maintained. Drivers can take the new Rock Cress Parkway from North High Street or Darby Street from Bridge Street.
Learn more about the Columbus Metropolitan Library – Dublin Branch and City of Dublin parking garage project on our website. Timelines and our live construction camera are available at dublinohiousa.gov/downtown-dublin/. 
Media Contact:
Lindsay Weisenauer, Public Affairs Officer
City of Dublin
614.704.9742 – Cell
lweisenauer@dublin.oh.us
Newsroom:https://dublinohiousa.gov/newsroom/