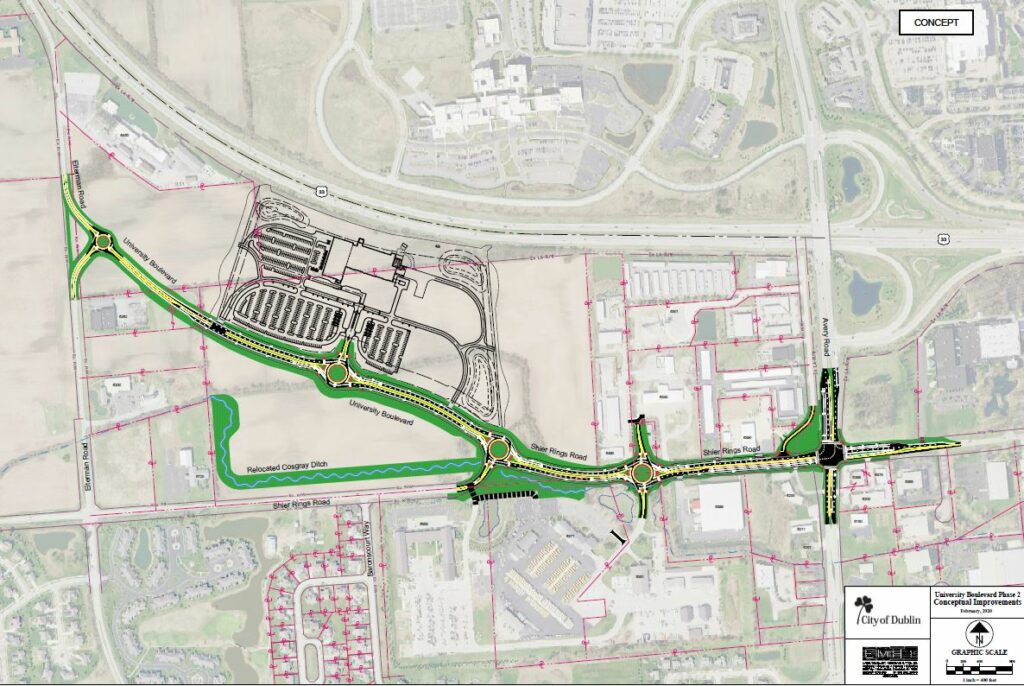 The University Boulevard Phase 2 project is underway.
Traffic update:
Shier Rings Road will have intermittent lane restrictions 7 a.m. – 7 p.m. with one lane, two-way traffic controlled by flaggers.
The week of Oct. 18, Avery Road at Shier Rings Road will have intermittent lane restrictions 7 a.m. – 7 p.m.
Starting Oct. 18, Eiterman Road north of Shier Rings Road will be closed to connect Eiterman Road to the University Boulevard roundabout. Work is expected to be completed by Nov. 1, 2021. See posted detour below.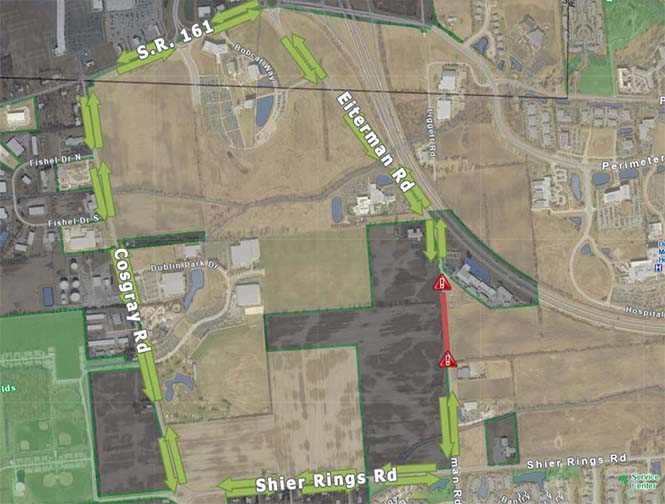 This project includes the installation of new sanitary sewer, waterlines and utilities; a new section of University Boulevard, which will primarily serve the OSU Wexner Medical Center Ambulatory Care and Outpatient Center in Dublin; shared-use path along the new roadway; widening of a section of Shier Rings Road between Avery Road and the east end of the new University Boulevard; and Avery Road/Shier Rings Road intersection improvements.
A tentative timeline and schedule follows:
Tree removal/site preparation – completed by March 31, 2021
Sanitary sewer installation – portion that will serve the medical facility to be completed by July 2021
Water main installation and activation – completed Aug. 2021
University Boulevard and widened Shier Rings Road – open to traffic by May 2022
Avery Road/Shier Rings Road signal improvements – operational Nov. 2022
Final completion in February 2023
Schedules are subject to change. Any traffic impacts will be communicated ahead of time via this webpage and the City's social media platforms, including Nextdoor.
On November 4, 2019, City Council approved a rezoning of the an approximately 34-acre site from Research/Office District to allow the specialized needs of the proposed Ohio State University Wexner Medical Center. The approval of the rezoning included a medical campus and a medical office building (±160,000 square feet) and an ambulatory care facility (±115,000 square feet) as well as all associated site improvements for this first phase.
Future phases of development are anticipated, with the scope and timing yet to be determined. Application materials are available on the City website at dublinohiousa.gov/pzc/19-055/.
#
Media contact
Lindsay Weisenauer
Public Affairs Officer
614.410.4504 – Desk
614.704.9742 – Cell
lweisenauer@dublin.oh.us
Newsroom: https://dublinohiousa.gov/newsroom
@DublinOhio | @DublinPolice | www.DublinOhioUSA.gov