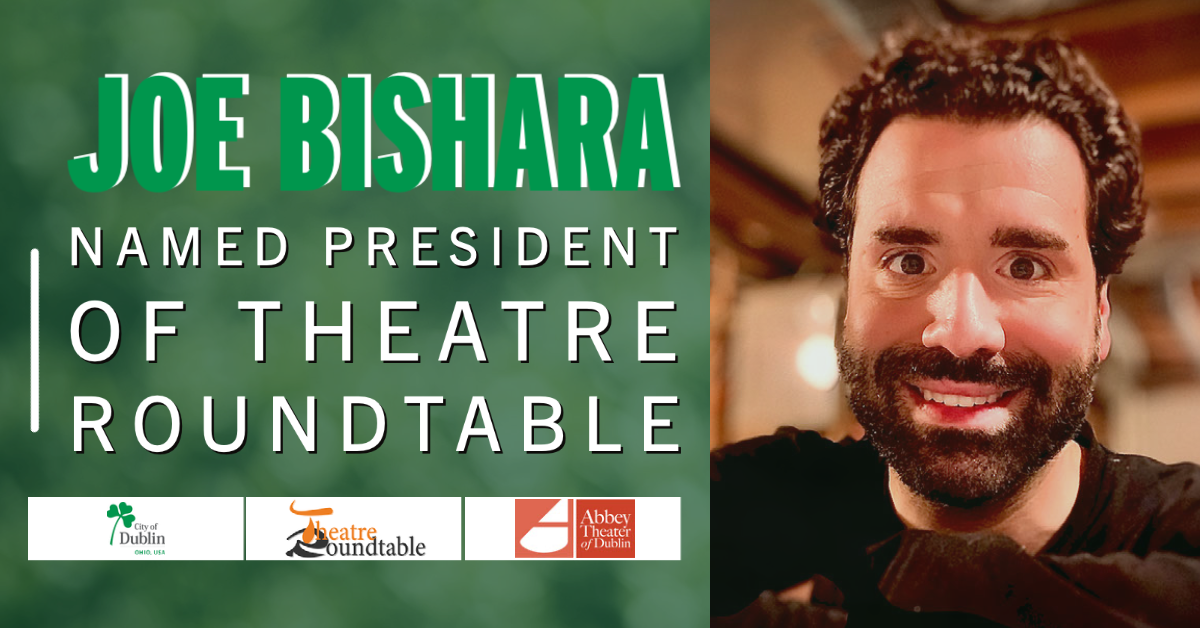 The Central Ohio Theatre Roundtable's Board of Directors has named the Abbey Theater of Dublin's Theater Supervisor Joe Bishara as their next President. Theatre Roundtable is a Central Ohio-based consortium of community, educational and professional theatre companies that exists to further enhance and promote the performing arts in Ohio.
"I am honored to have the opportunity to serve as President of the Theatre Roundtable," Bishara said. "The mission of this organization directly aligns with the new direction for the City of Dublin's theatrical programming."
Joe Bishara has collaborated on over 200 theatrical productions across the United States as an award-winning actor, director, educator and producer. He is the Theater Supervisor for the City of Dublin's community theater, Abbey Theater of Dublin, founder and managing director of New Albany Youth Theatre and a creative consultant for both Broadway2LA Acting Studio and Evolution Theatre Company. Joe is a passionate advocate for new theatrical works. He is the creator of the Abbey Theater of Dublin's Virtual Theatre Project and served for six years as the program coordinator for the Greater Columbus Arts Council (GCAC) playwriting fellowship program. He is a proud graduate of Ohio Wesleyan University, a member of Actors' Equity Association (AEA), the Musical Theatre Educators' Alliance (MTEA) and an associate member of the Stage Directors and Choreographer Society (SDC).
Theatre Roundtable is committed to the belief that knowledge of, and participation in, the theatre arts is central to human existence. The Roundtable acts as a lobbyist, promotes cooperation among local theatre, encourages the development of theatre-in-education, fosters theatrical diversity, works to expand the general theatre-going population and endorses the development of professional standards. For more information, go to www.theatre-roundtable.org
For more information about the Abbey Theater of Dublin, visit DublinOhioUSA.gov/Abbey-Theater and follow the Abbey Theater on Facebook and YouTube.
#
Media Contact:
Shirley Blaine
Public Information Officer
614.230.4683 – Cell
614.410.4523 – Desk
sblaine@dublin.oh.us
Newsroom: https://dublinohiousa.gov/newsroom/