Babysitting services are available for children ages 6 weeks to 12 years while parents and guardians are working out, attending a class or relaxing at the pool. Children can play in the indoor or outdoor area or engage in age-appropriate games and activities.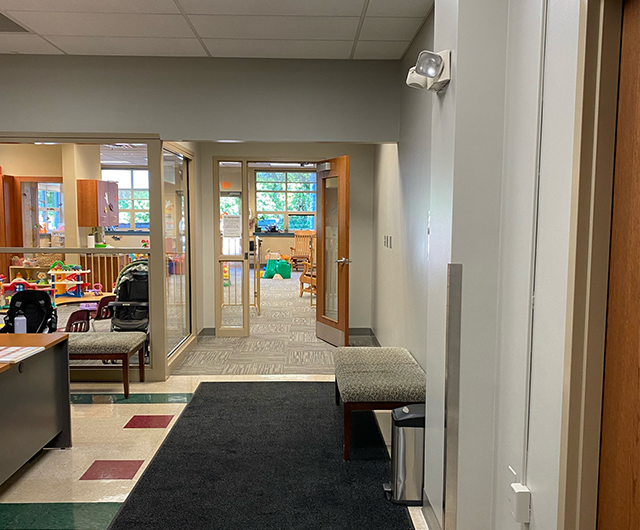 Activities:
Activities in the Wee Folk Room can include, but are not limited to crafts, board games, video games and outdoor play. Staff and children enjoy outside play as often as possible, weather permitting. Parents/guardians should provide appropriate attire for indoor and outdoor play (this includes but is not limited to socks, shoes, gloves and coats).
Food:
Food and gum are not permitted in the room.
Drinks:
Families are permitted to bring in one cup per child that is be able to be closed (water bottle, sippy cup, etc.) to avoid spills. Drinks must be water or a clear liquid; no milk or colored juice are permitted.
Illness:
Children showing signs of illness are not permitted in the Wee Folk Room. Illnesses include, but are not limited to fever, discolored nasal discharge, diarrhea and/or vomiting. Staff has the authority to refuse service to children showing signs of illness.
Parent's/Guardian's Location:
Parents/guardians must remain inside the DCRC while their children are in the Wee Folk Room. Parents/guardians may attend a group fitness class that is offered directly outside the DCRC (i.e. Bocce court area. This does NOT include classes held at Coffman Park or Coffman Pavilion).
Upset Children:
On occasion, when a child is overly upset and cannot be comforted, it may be necessary to reunite the child with their parent. It is imperative that everything possible is done to soothe the child. Generally, staff use the 15-minute rule before trying to locate the parent. It is also important staff work with parents/guardians to determine the best and most efficient way to soothe and calm their child. Parents/guardians are consulted regarding disciplinary situations, incidents and accidents.
Extra Clothing:
The Wee Folk Room staff enjoy providing a fun and positive experience for all of the children in the room. Sometimes this involves kids getting dirty and sometimes wet. We ask that families provide an extra pair of clothing in case this happens. Children enjoy playing with bubbles, at the water table, and partaking in crafts — all of which can be messy.
If families wish for their child not to participate, please inform the staff so staff can find an alternative activity for the kids to do.
Diapering:
For children under the age of 3, the staff offer diaper changing at no additional cost. Parents/guardians must supply diapers and wipes if they wish to use this service and indicate it on the emergency form when signing up. Parents/guardians will be called upon to provide personal care for their child if permission for diaper changing is not granted or the child shows resistance for a diaper change.
Registration/Check-In Process
Registration must be completed prior to your child's first visit. After completion of the forms, parents/guardians visit the DCRC Welcome Desk to have their photo taken & I.D. cards issued, and purchase their preferred punch pass.
Please leave extra time at the beginning of your DCRC visit as the sign-up process can take around 10-20 minutes to complete.
Families are welcome to download or pick up the paperwork ahead of time, complete the forms at home and bring them in on their first visit.
Emergency contacts must live within 30 minutes from Dublin, Ohio.
Parents/guardians must sign their children in and out with each visit and show proper I.D. (Wee Folk Pass or state-issued driver's license).
Download the Registration Form
Wee Folk Room Hours
Monday – Friday: 8:15 a.m. to 8 p.m.
Saturday: 8 a.m. to Noon
Sunday: 8 a.m. to Noon
*These hours may change/vary with notice to the patrons at the discretion of the Dublin Community Recreation Center based on special events or days when the DCRC has modified hours
Wee Folk Room Ratios
Availability is limited on a first-come, first-served basis, due to child/staff ratios. Children must be supervised at all times.
1:7 ratio with toddlers and children (14 months to 12 years old)
1:1 ratio with infants (6 weeks to 13 months), meaning infants cannot exceed the staff number.
Staff should not exceed more than eight children per staff member. Staff-to-child ratios are maintained at all times.
Punch Pass System
Families must purchase a Wee Folk punch pass or an unlimited monthly pass from the DCRC Welcome Desk prior to use of the Wee Folk Room. A computerized scanning system is utilized for each child's visit. Each child has their own card with their name and their parent's photo for security purposes.
Punch Pass Pricing
1 pass visit – $4
5 pass visit – $20
10 pass visit – $40
20 pass visit – $72
Unlimited Monthly Pass
Unlimited monthly passes are available for purchase and pricing is based on residency. Please note that the 2-hour limit per child, per visit limit still applies. The monthly pass is valid for 30 days from the date of purchase.
Dublin Residents – $20
Dublin City School District Residents – $35
Non-Residents – $40
Time Limit & Late Fees
There is a 2-hour maximum per child, per visit. All children must be picked up by the Wee Folk Room closing time.
A late charge of $1 for every minute, per child is assessed after the 2-hour limit or after the Wee Folk Room is closed. All fees must be paid in full prior to the next use of the Wee Folk Room.
The first offense may result in the late fee and a warning.
The second offense may result in the late fee and loss of room privileges for 1 month.
The third offense may result in the late fee and a loss of room privileges for 2 months.
Refunds
Refunds are not available if your child is unable to use the Wee Folk Room. 
Accommodation Requests
The City of Dublin's Parks & Recreation Department promotes an inclusive policy for all of our programs. To provide the best overall experience for your child or to carry over IEP accommodations, an appointment must be made for an inquiry of needs. Contact Adaptive Recreation Coordinator Jodi Shealy at 614.410.4574. An accommodation plan must be completed prior to your child's first visit. This plan is required for each seasonal enrollment.
Volunteer Opportunities
The City of Dublin has a wide variety of volunteer opportunities throughout our community. For more information, contact Community Outreach & Engagement at 614.410.4404.
Questions?
Jamie Schlarman
Recreation Operations Coordinator
614.410.4562
jschlarman@dublin.oh.us