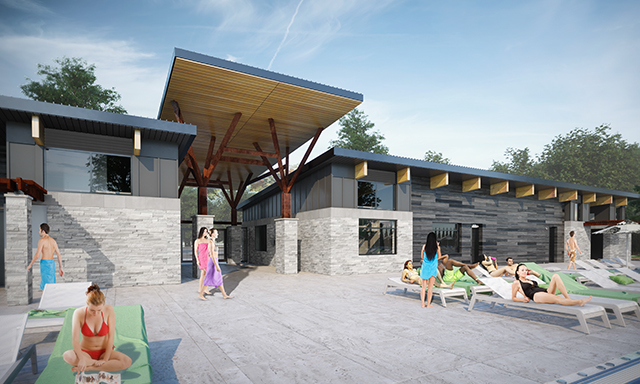 The City of Dublin is excited to announce the Dublin Community North Pool renovation project will be underway in early July! Preliminary activity by contractors on and around the site is beginning. The City's goal is to have the pool completed by the 2021 pool season. Designs continue to reflect the desires of the community. Some unanticipated site issues must be addressed which have resulted in some minor delays.
The Planning and Zoning Commission approved the site and building plans on June 11 and construction was expected to begin shortly after.
For additional information regarding the layout and building designs, please visit https://dublinohiousa.gov/pzc/19-133 and https://dublinohiousa.gov/pzc/20-082, respectively.
Staff is available to answer any questions you may have. Please contact Shawn Krawetzki at skrawetzki@dublin.oh.us or at 614.410.4707. We appreciate your continued interest and collaboration.
Overview
Revised draft design, September 3, 2019
After serving the Dublin community for nearly 30 years, Dublin Community Pool North (5660 Dublinshire Drive) is overdue for a major renovation. Help shape the next 30 years by providing your input.
Dublin City Council is currently considering the renovation/replacement of the pool. Renovations will include updates to the leisure pool, lap pool and main bathhouse, and features that bring the pool up to date with current industry standards. These renovations are being assessed against the cost of complete replacement of the pool.
Following six public meetings and a public comment period beginning in the fall of 2018 through spring 2019, staff made the following recommendation to Dublin City Council at their meeting April 22, 2019, which Council approved:
Replace the existing 25-meter pool with the same size outdoor pool, associated facilities and amenities, as intended by the current funding in the City's five-year capital budget.
Implement the design process with the community immediately, in order that the intended replacement schedule be met.
City staff will participate in discussions regarding additional swim facilities to accommodate other swimming and competitive swim community needs.
Public Input
An initial, draft design concept, based on previous public input, was revealed at a public meeting May 22, 2019. A refined design concept based on additional public input and approved funding was shared at a public meeting September 3, 2019. The final design concept was shared at a public meeting October 29, 2019 for further input before it goes to Dublin Planning and Zoning Commission for review and approval.