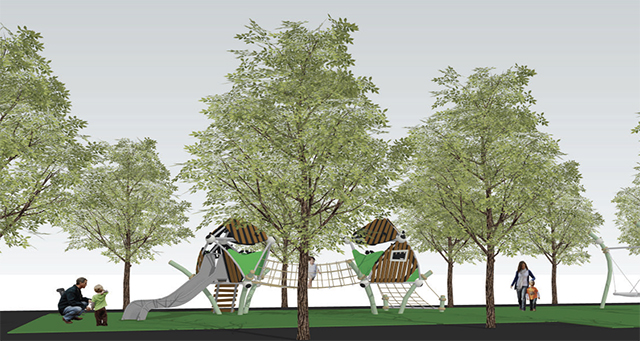 UPDATE: We have received great feedback from the community on this playground. The final design for the playground renovation is linked below.
Timeline: Park Place playground renovations are set to begin fall 2022.
Each year, the City of Dublin identifies neighborhood parks that are due for an update. The Park Place playground was selected to replace the aging equipment. This project will include all-new equipment and play surfacing.
The renovation will maintain the same size play area and include equipment geared for children ages 2 to 5 years old.
The City of Dublin requested feedback from the community on the renovated playground's overall design. The proposed renovation includes new swings, surfacing and a tree house play structure that is connected with net bridges and accompanied with a climbing ladder and slide.
Residents were encouraged to review the park renderings and provide their input for this project by April 24, 2022.
Based on the community's feedback the final design is linked below.
Download the Project Proposal | Final Design
The new playground renovations will begin in early fall 2022 with the project set to be completed by late fall 2022.