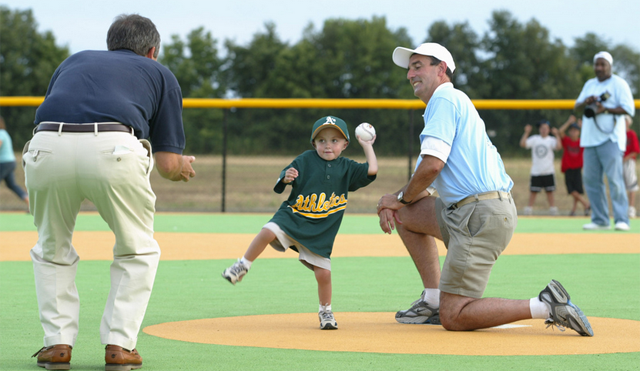 Miracle League of Central Ohio was formed in 2004 with the mission of raising funds to build a unique baseball field for children with mental and physical challenges in the Central Ohio area. The City of Dublin donated the land for the field.
Opening day was August 28, 2005 at Darree Fields Park on Cosgray Road in Dublin, Ohio. The Miracle League is celebrating its ten-year anniversary in 2015.
Miracle League Playground
The Miracle League Playground Committee is partnering with Dublin Special Olympics to bring training grounds to the Miracle League complex. The vision is to provide space for Special Olympic athletes, who have out-grown the playground, to build strength and train, adjacent to the Miracle League playground and field. The hope is they in-turn inspire other athletes to participate in Special Olympics.
Plans call for a training pad with related fitness stations, laid out in accordance with the Special Olympics TRAIN Program Guide- all designed with special needs children in mind. Equipment and training pad will be wheelchair accessible and designed to inspire all athletes.
The Miracle Workers- a group of residents, local businesses, Special Olympic officials and City employees- are working together to bring the Special Olympics Training Grounds to Central Ohio. The next step in the process is to procure community support in the form of donations.
Miracle Worker Sponsorship Packages range from $500 to $100,000. In addition to fulfilling the dreams of all children who want to become Olympic athletes, sponsors at funding levels from Friend of the Miracle League Training Grounds to Olympian will receive recognition and visibility for their generous support.
Special Olympics Training Flyer
6259 Cosgray Road (Darree Fields Park)