The City of Dublin is committed to providing residents access to waterways. Currently there are four formal access points along the Scioto River for canoes and kayaks in Dublin:
Amberleigh Community Park
Dublin Spring Park
Emerald Parkway Bridge Parking Lot (beneath I-270 on Riverside Drive)
Scioto Park
These access points are part of the regional Central Ohio Blueways system, covering over 100 miles of water. View an interactive map at morpc.org/blueways.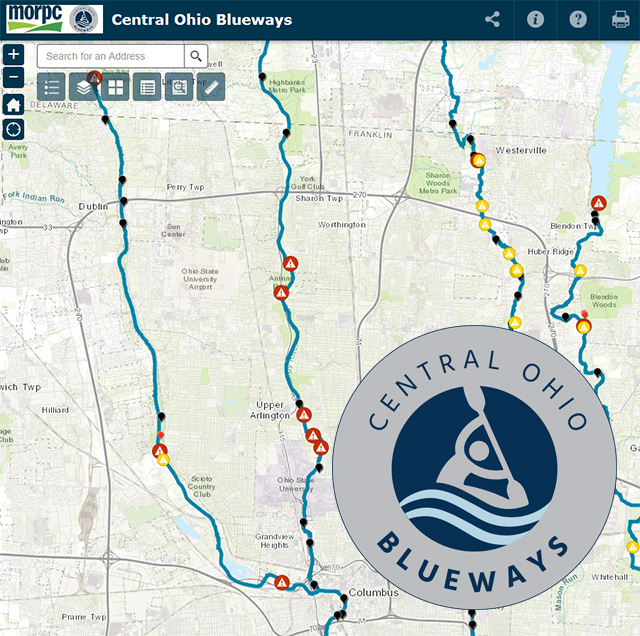 Water Safety
Residents should always use caution near waterways. The Ohio Department of Natural Resources suggests the following when boating:
Never boat alone.
Wear a lifejacket at all times, particularly in moving water.
Be prepared to swim.
Dress properly and bring an extra change of clothing with you in a waterproof bag.
File a "float plan" with a reliable person indicating where you are going and when you will leave and return.
Do not overload or unevenly load your boat.
Always maintain three points of contact (for example, two hands and one foot touching the boat) while moving around in the boat.
Watch for river and lake hazards.
Never mix alcohol and boating.
Should an immersion occur, try to get out of the water as quickly as possible.
Know your abilities.
Carry a rescue throw bag with sufficient line.
For a complete guide to paddling safety and other water safety tips, visit http://watercraft.ohiodnr.gov/safetytips
Additionally Washington Township Fire Department offers these tips:
Know how to swim before you get into a kayak, canoe or other water craft.
Practice in your canoe or kayak on calm, shallow water like a lake or pool before venturing into any river.
Always wear your personal flotation device, no matter how experienced or confident you are in the water.
Avoid high water conditions. River water levels can change rapidly after a period of heavy rainfall. The US Geological Survey (USGS) provides real-time streamflow conditions on their website, usgs.gov.
Take a cell phone with you in a waterproof container so you can call for help, if needed.
Never tether boats, canoes, kayaks or inner tubes together.
Be wary of obstacles below the water's surface like rocks and branches that can create hazards.
The Scioto River
The Scioto River spans the entire city of Dublin from north to south. Its headwaters begin in Auglaize County in northwest Ohio, flowing south through Dublin, past Columbus and into the Ohio River. The river has been an important resource throughout the years, from Dublin's earliest inhabitants, the Adenas and Hopewells, to Dublin's first settlers and beyond. Read more in this article from the June/July 2018 issue of Dublin Life.