The Dublin Police Department works to engage Dublin residents within the policing process to educate about the purpose of the police and to connect with residents.
The DPD contains the Community Education Unit, which has one sergeant (Sgt. Renae Rice), one corporal (Cpl. William Morris) and seven school resource officers assigned on a full-time basis.
The Diversity, Inclusion and Community Outreach Unit works to recognize and address the needs of Dublin's diverse populations regarding safety and policing issues, develop resources to aid the department in working with those populations, provide and promote training to officers regarding cultural issues and expectations, and to provide and promote education and community outreach for these community members regarding interactions with law enforcement. These populations include but are not limited to, racial, ethnic, LGBTQ, faith based, elderly, impoverished and those struggling with mental health crisis.
Learn
Understanding the training and function of officers helps citizens relate to their responsibilities and unique role. The Citizens' Police Academy is a 12-week program that gives participants insight into the profession of law enforcement and the operations of the Dublin Police Department. Topics during the academy sessions will focus on typical policing activities and include areas such as arrest process, search and seizure, traffic stops and scenario-based exercises.
The class is open Dublin residents and non-residents; however, residents are given preference when the class roster is being selected. All applicants must be 18 years or older. For 2020, the in-person Citizens' Police Academy has been canceled due to the coronavirus (COV­ID-19) pandemic. However, during fall 2020, there will be a social-media based campaign including content that is usually taught during the academy.
Connect
Reaching out to the community and being present in ways that earn public trust make up this invaluable function of the department. Events such as Shop with a Cop, Fill the Cruiser, Teen Roadeo, and National Night Out focus on times that the DPD can connect with residents on a more regular basis.
The Community Education Unit also provides crime prevention and community relations services, such as women's self-defense and drug awareness classes. The department offers speakers on a variety of law enforcement-related topics, including personal safety, home security and crime statistics.
Additionally, DPD has officers certified as part of the bicycle patrol unit. These officers use bicycles in addition to their motor vehicles to patrol Dublin's streets and bike paths. Officers assigned to this ancillary duty are also available to conduct bicycle safety talks.
Include
Diversity and inclusion serve as major components of the DPD's outreach with Dublin's residents.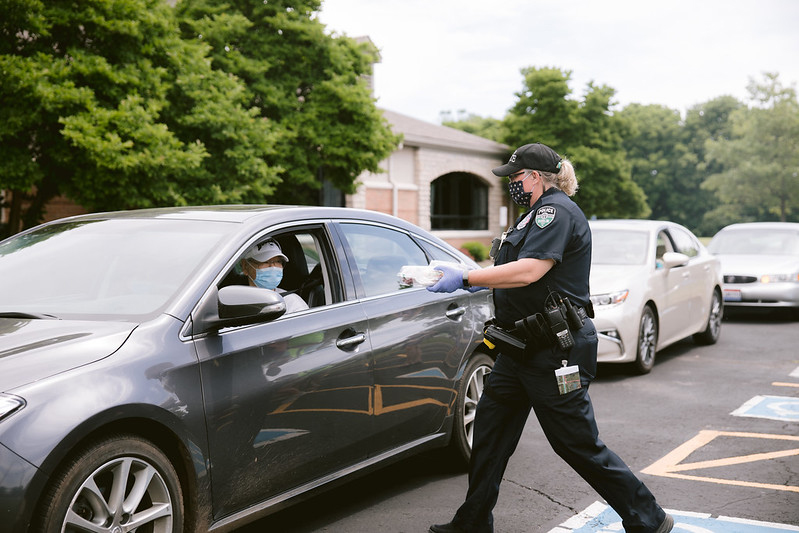 Community Liaison Officers
There are four Community Liaison Officers with the DPD. Community Liaison Officers work to find new ways the police department can connect with the community. Learn more.
LGBTQ+ Liaisons
In 2020, LGBTQ+ Liaisons were appointed to be a link between Dublin's gay and lesbian community, the City Manager's Office and the DPD. Officer Amber McCloskey and J.M. Rayburn, an employee in the City's Division of Planning, will serve as the City's LGBTQ+ Liaisons.
The mission of the liaison program is to lead to positive outcomes for all of Dublin related to issues potentially affecting the LGBTQ+ community. Liaisons are advocates for fair and respectful enforcement of the law, and one liaison is a police officer who the community can rely on to appropriately respond to sensitive issues.
Liaisons are responsible for reviewing City policies and services through an LGBTQ+ lens as well as assisting the City in creating policies and delivering services that ensure inclusivity. The liaisons will serve as empathetic representatives for constituents who want to bring LGBTQ+ related issues to the City, without concern of being dismissed or misunderstood. Learn more.
Chief's Advisory Committee
Starting in 2020, the Chief's Advisory Committee began in efforts to have open dialogue between the Dublin Police Department and the community about ensuring equity in Dublin policing. Learn more about the group. 
Protect
School Resources Officers
School Resource Officers, or SROs, work to bridge the gap between police officers and students, helping to
increase positive attitudes toward law enforcement,
encourage more cooperation between students and police,
reduce juvenile crime,
and ultimately develop an atmosphere conducive to learning.
There are seven SROs serving in Dublin's four middle schools and three high schools. There is also one corporal and one sergeant committed to serving the Dublin School District.
Each high school (3) and middle school (4) has an SRO assigned to their school.
Officer Eric Cochrun – Coffman High School
Officer Brian Nimmo – Scioto High School
Officer Paul Burks – Jerome High School
Officer Kathy Evans – Karrer Middle School
Officer Rigo Quintanilla – Davis Middle School
Officer Chad Patrick – Grizzell Middle School
Officer Scott Nichelson – Sells Middle School
The middle school SROs are also assigned responsibility for each of the elementary schools.
Each SRO has received training in implicit bias and has partnered with the Dublin City School District to examine implicit bias and inclusion.
Learn more about Dublin's SROs.