24-hour Anonymous Tip Line
Submit an anonymous tip to the Dublin Division of Police regarding crime in the Dublin area online.
Note: This tip line is NOT live monitored.  If you have an emergency, please call 9-1-1.  If you have something urgent or requires an immediate police response, please call 614.889.1112.  You can request to remain anonymous.
View Crimes in Your Area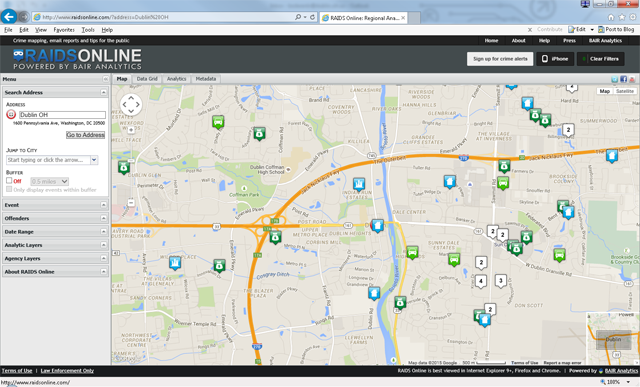 RAIDS Online goes beyond crime mapping by allowing users to:
Stay informed about local crime.
Sign up and receive automatic alerts about recent crime activity.
Submit anonymous tips.
You can see the source of the crime data for any incident by clicking on the incident on the map.
View data using a computer or smart phone
Other local area users of RAIDS Online include:
Columbus Police
Union County Sheriff's Office
Delaware County Sheriff's Office
Franklin County Sheriff's Office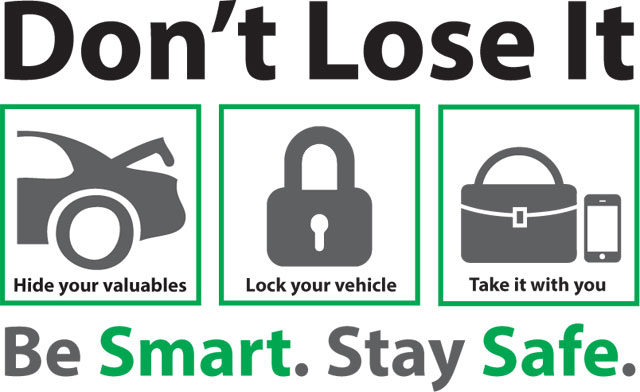 Every year more than 1.85 million thefts from vehicles take place nationwide costing $1.2 billion in stolen personal items and accessories. Whether you are parked in a lot all day for work, heading into the store for a few minutes or in the comfort of your own neighborhood, don't make it easy for thieves to break in. It takes seconds for a thief to break into your vehicle, grab valuables in sight and get away. Always be sure to hide your valuables or take them with you and lock your vehicle.
Dublin is a safe city, and you can help make it even safer and prevent crimes of opportunity– Hide your valuables, lock your vehicle, take it with you. Be smart. Stay safe.
Give Thieves a Hard Time
Don't make it easy for thieves. Help prevent theft from your car by taking these steps:
If you have more than one stop in a shopping trip, hide your newly purchased items before you leave the first store.
On quick shopping trips, only take with you what is needed for that errand.
Park in well-lit, high-traffic areas and when possible.
Stash the evidence of valuables, too, including chargers, auxiliary cords and suction-cup mounts for navigation systems.
Completely close all windows and sunroofs. You don't want to make it easy for thieves to reach in your vehicle. Plus, open windows can disable the pressure sensors in some car alarms.
How Businesses Can Help
Businesses can help lower the risk of theft from vehicles in their parking lot in several ways.
Offer a coat check to customers, including safe storage for valuables like laptops.
Assign staff to walk through the parking lot periodically to look for people who are loitering in the area or looking in car windows.
If you have a video surveillance system, ensure that it is in good working order and recording quality images.
Remind customers to hide their valuables either verbally or by handing out cards.
Neighborhood Watch Program
Designed by the Dublin Police, this program allows you and your neighbors to help prevent and reduce crime in your neighborhood.
A Neighborhood Watch group is an association of neighbors who look out for each other's families and property, alert the police to any suspicious activities and work together to make their community a safer place to live.
Residents interested in forming a Neighborhood Watch group in their subdivisions can get started by contacting the Dublin Police at 614.410.4800, or by emailing Sgt. Renae Rice at rrice@dublin.oh.us.
Here are a few extra steps you can take to start organizing your Neighborhood Watch group:
Host a neighborhood meeting to gauge neighbors' interest and begin to identify neighborhood issues that need to be addressed.
Invite a Dublin Police officer to attend this meeting to discuss details of the program and answer any questions.
Select block captain volunteers who will be responsible for relaying information to members on their block, keeping up-to-date information and making efforts to involve everyone.
Elect a chairperson to serve as liaison with the Police and relay information about meetings and crime incidents to block captains.
Establish a regular means of communicating with Watch members.