To continue to protect the welfare of Dublin residents, the Dublin Community Pool South will open for the 2020 season with new safety guidelines. Protocols are necessary to abide by state health order and prevent community spread of the coronavirus (COVID-19).
On June 22, Dublin City Council approved plans presented by staff to open the Dublin Community Pool South for the season beginning June 26. Dublin residents must pre-register online for their swim time up to 48 hours in advance. Residents cannot sign up for more than one swim time block per day.
Pool Guidelines
The pool will have a maximum capacity of 115 guest per swim block. The pool is only open to City of Dublin residents, and children ages 15 or younger must be accompanied by an adult or guardian who is 16 or older. This year, no season passes are available.
Visitors may arrive 15 minutes before their designated swim time. Upon arrival, guests will have their temperature taken.
Wearing face masks is strongly encouraged when entering and exiting the pool or when speaking with lifeguards or pool staff.
Visitors should follow physical distancing guidelines and remain in designated sitting areas on the pool deck when not swimming.
Extra hand sanitizing stations have been installed.
Please arrive at the pool ready to swim. Showers, changing areas and water fountains will not be open. However, restrooms will be available.
Guests will also need to bring their own lounge chairs and are permitted one to two small pool toys.
Guests should maintain 6 feet of distance within the pool to other swimmers. For lap swimming, one swimmer per lane is permitted. Lifeguards will be focused on in-water safety while staff on the pool deck will be focused on ensuring physical distancing is maintained.
Limited pre-packaged snacks are available for purchase at the concession stand.
To ensure the health and safety of visitors and staff, the pool will close between swim time blocks for one hour for cleaning and sanitizing. The pool's regular 15-minute safety breaks every hour will still be observed.
---
Advance Registration
Visit the City of Dublin's Advance Sign-Up page to pre-register:
https://web1.vermontsystems.com/wbwsc/ohdublinwt.wsc/splash.html
With questions about registering for a swim time, call the Dublin Community Recreation Center at 614-410-4550 from 5:30 a.m. to 9:30 p.m. Monday through Friday and 8 a.m. to 8 p.m. Saturday and Sunday.
---
2020 Dates of Operation
The South Pool will be open Friday, June 26, through Monday, September 7.
---
2020 Hours of Operation
The South Pool will operate on three swim blocks with an hour in between blocks to allow for cleaning and sanitizing to keep visitors safe:
June 26 – August 23
10 a.m. – 1 p.m.
2 – 5 p.m.
6 – 8 p.m.
August 24 – September 7
Monday – Friday
4 – 7 p.m. (pay the regular daytime rate)
Saturday & Sunday:
10 a.m. – 1 p.m.
2 – 5 p.m.
6 – 8 p.m.
---
2020 Pass Rates
| | | | |
| --- | --- | --- | --- |
| | Dublin Resident | | |
| Adult (18 years and older) | $8 | | |
| Child (3 – 17 years) | $7 | | |
| Child (2 years and under) | FREE | | |
| Seniors (60 years and older) | $7 | | |
| After 6 p.m. | $5 | | |
| | | | |
---
The Club at Corazon Partnership
This season, the City will partner with The Club at Corazon so City residents, who are non-Corazon members will be able to swim for the same cost as South Pool members per time slot.
The outdoor pool at The Club at Corazon will be open to Dublin residents from June 26 through September 7. The club is located at 7155 Corazon Drive, Dublin.
City Residents must provide a valid identification at the time of entry to confirm residency.
Two, four-hour time blocks will be made available for pre-registration sign-ups for City Residents.
Time blocks are:
10 a.m. – 2 p.m.
2:30 – 6:30 p.m.
(Pool will be closed for cleaning and sanitizing 2 – 2:30 p.m.)
The Corazon option will be available on the RecTrac Splash page along with the other signups for DCRC and South Pool. Time block sign-ups will be managed by City Staff using the City's existing RecTrac software program.
Admission for entry for either time block for City of Dublin Residents is:
$8 for adults (18 years of age and older)
$7 for children (3-17 years of age)
FREE for children 2 years and under
Payments for time blocks can be made at the time of registration via the City's RecTrac system.
Attendance will be capped at 50 people for Monday through Friday and 25 people on Saturday and Sunday.
---
Dublin Residency
Proof of City of Dublin residency is required when setting up a new online account (a current utility bill, resident card, which can be obtained at the DCRC, or valid Ohio driver's license). For the 2020 season, the facility will be open to City of Dublin residents only and guest passes will not be available for purchase.
All patrons must present a Driver's license, State, School or photo ID. Children without IDs must be accompanied by an adult supervisor at least 16 years of age.
Double check your residency before setting up your online account or visiting one of our facilities:
City Resident, School District Resident, Non-Resident Fees Explained
Dublin City Council recognizes that the facilities and programs offered by Recreation Services should provide beneficial pricing and priority to the residents of the City. City Council's current financial policy is to keep fees for residents participating in recreation classes and other recreational amenities at a moderate level. These financial policies have been implemented to benefit residents and to encourage a healthy community. School District Residents and Non-Residents do not receive the tax-subsidized pricing received by the residents of the City of Dublin.
Fees for recreation center annual passes, seasonal passes and program registrations are determined by where people live. You are considered a City Resident if you reside within the City of Dublin corporate limits. School District Residents reside in the Dublin School District, but not within the City of Dublin corporate limits. Anyone not fitting into one of these two categories is considered a Non-Resident. Your mailing address or school district is not always an accurate indication of your City of Dublin residency status. You may research your residency status on the State of Ohio's website at http://tax.ohio.gov/divisions/employer_withholding/index.stm under "The Finder."
CR = City Resident | SDR = School District Resident | NR = Non-Resident
---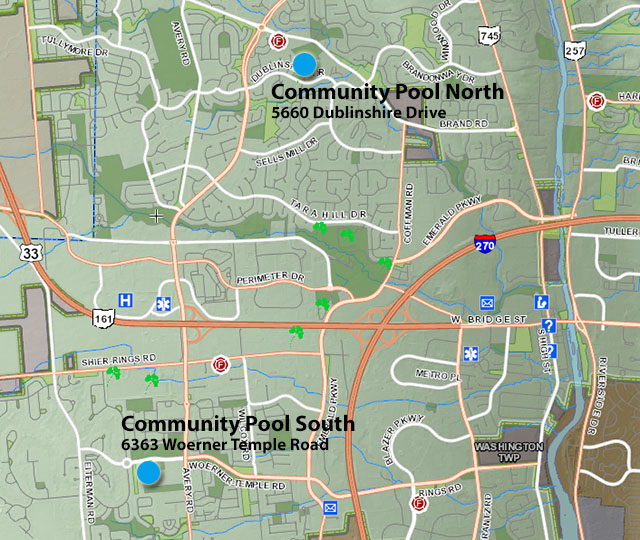 Dublin Community Pool North
During the 2020 season, the DCP North will be under construction and is scheduled to reopen for the 2021 season.
Dublin Community Pool South
6363 Woerner Temple Road
614-889-SWIM (7946)