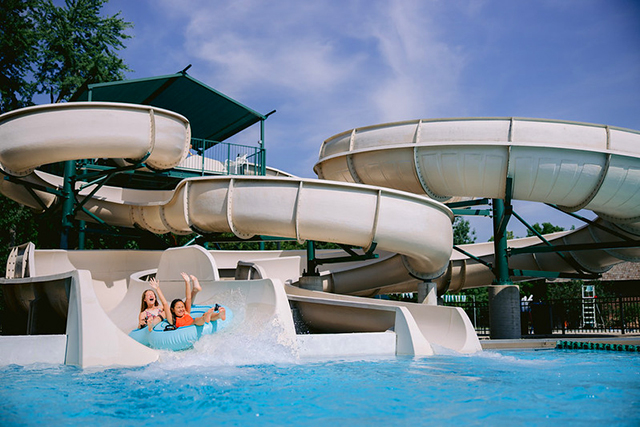 To continue to protect the welfare of Dublin residents, the Dublin Community Pools will open for the 2021 season with continued safety guidelines. Protocols are necessary to abide by state health order and prevent community spread of the coronavirus (COVID-19). All protocols are subject to change as operations are observed or as guidance changes.
Dates of Operation
Saturday, May 29 – Monday, Sept. 6
Hours of Operation
May 29 – Aug. 17
10 a.m. to 1 p.m.
2 to 5 p.m.
6 to 8 p.m.
Aug. 18 – Sept. 6
Monday – Friday *with the exception of Labor Day
4 to 7 p.m. (day pass purchases will pay regular daytime rate)
Saturday & Sunday
10 a.m. to 1 p.m.
2 to 5 p.m.
6 to 8 p.m.
Season Pass Sales
A limited number of season passes will be available for purchase for the 2021 season. Season pass holders will receive priority registration to reserve desired time block 48 hours in advance.
Season passes to the outdoor pools are only available for purchase at the DCRC front desk. Outdoor pools are not equipped to sell season passes.
A Dublin Community Pool season pass allows access to both the Dublin Community Pool North and South Pools.  Passes are not transferable to other individuals.
City of Dublin and school district resident season pass sales begin at 10 a.m. Wednesday, April 14, at the DCRC.  Resident passes purchased through April 30 receive a 10% discount. This discount does not apply to school district resident pass sales. Due to limited number of season passes available, non-resident passes will not be for sale for the 2021 season.
A current utility bill, current Dublin Resident Card or valid Ohio driver's license is required as proof of residency. There is no charge for children 2 years and under to receive a pass. A birth certificate for children 2 years and under or a driver's license for adults 60 and older is required at the time of purchase in order to receive the discounted rate. Please note: Residency on the application pertains to where you live, not where you are employed.
Season Pass Rates
Dublin Resident
Resident Discount

April 14-30

School District
Individual
$95
$85.50
$220
Household of Two
$160
$144
$320
Household of Three
$220
$198
$445
Household of Four
$250
$225
$515
Household of Five or more
$290
$261
$600
Senior Citizens

(Age 60 and Over)

$65
$58.50
$105
Daily Pass Rates
For 2021, City of Dublin residents may purchase daily passes online, up to 24 hours in advance through DublinOhioUSA.gov/Recreation-Services/online-registration. Daily pass sale will also be available for purchase on site as long as capacity is not yet met for the desired time block.
Guest of resident daily passes are not available the 2021 season.
| | |
| --- | --- |
| | Dublin Resident |
| Adult (18 years and older): | $9 |
| Child (3 – 17 years): | $8 |
| Child (2 years and under): | FREE |
| Seniors (60 years and older): | $8 |
| After 6 pm (3 years & older): | $6 |
Pool Guidelines
The pool will have a maximum capacity of guests per swim block. The pool is only open to season pass holders and City of Dublin residents; an adult or guardian who is 16 or older must accompany children ages 9 or younger.
North Pool Capacity: 115
South Pool Capacity: 107
Capacities may vary depending upon programming and special feature operations
Visitors may arrive 15 minutes before their designated swim time. Upon arrival, guests will have their temperature taken.
Adult to child ratios have been established for the safety of all our young guests:
Children ages 10 years and older may enter the facility without an adult supervisor.
Children ages 8 and 9 years must have a supervisor age 16 years or older in the facility. One adult supervisor is required for every five children in this age group.
Children ages 5 through 7 years must be visually supervised by a supervisor age 16 years and older at all times. One supervisor is required for every five children in this age group.
Children 4 years of age and under must be within arm's reach of a supervisor age 16 years and older. One supervisor is required for every two children in this age group.
Face coverings are required when entering and exiting the pool, traveling throughout the facility or when speaking with lifeguards or pool staff. Face coverings may be removed when in designated seating area.
Face coverings are not permitted to be worn in the swimming pools.
Visitors should follow physical distancing guidelines and remain in designated sitting areas on the pool deck when not swimming.
Group sizes cannot exceed 10 people.
Please arrive at the pool ready to swim.
Lounge chairs will be placed in designated physical distancing locations throughout the facility. Guests may request additional chairs from aquatics staff as needed.
The body slides will be open for enjoyment at both facilities. We anticipate some additional special features being available pending Franklin County Public Health approval. Special features such as spray grounds and splash pads will remain closed.
Diving boards will be made available on specified dates/times along with days in which capacity is not met, as operation of this feature limits the numbers of guests able to visit the facility.
Guests should maintain 6 feet of distance from other swimmers within the pool. For lap swimming, two swimmers per lane are permitted starting on opposite ends of the pool. Lifeguards will be focused on in-water safety while staff on the pool deck will be focused on ensuring physical distancing is maintained.
Please limit toys to one or two small pool toys.
Concession stands will offer the full menu for the 2021 season.
To ensure the health and safety of visitors and staff, the pool will close between swim time blocks for one hour for cleaning and sanitizing. The pool's regular 15-minute safety breaks every hour will still be observed.
Extra hand sanitizing stations are available on site.
Advance Registration
To register, visit the Online Registration page at DublinOhioUSA.gov/Recreation-Services/online-registration.  *Registration is limited to one time block per day, per user.
Contact the DCRC front desk at 614.410.4550 if you have any questions or need assistance registering for a swim time. Staff are available from 5:30 a.m. to 9:30 p.m. Monday through Friday, and 8 a.m. to 8 p.m. on Saturday and Sunday.
---
Dublin Residency
Proof of City of Dublin residency is required when setting up a new online account (a current utility bill, resident card, which can be obtained at the DCRC, or valid Ohio driver's license). For the 2020 season, the facility will be open to City of Dublin residents only and guest passes will not be available for purchase.
All patrons must present a Driver's license, State, School or photo ID. Children without IDs must be accompanied by an adult supervisor at least 16 years of age.
Double check your residency before setting up your online account or visiting one of our facilities:
City Resident, School District Resident, Non-Resident Fees Explained
Dublin City Council recognizes that the facilities and programs offered by Recreation Services should provide beneficial pricing and priority to the residents of the City. City Council's current financial policy is to keep fees for residents participating in recreation classes and other recreational amenities at a moderate level. These financial policies have been implemented to benefit residents and to encourage a healthy community. School District Residents and Non-Residents do not receive the tax-subsidized pricing received by the residents of the City of Dublin.
Fees for recreation center annual passes, seasonal passes and program registrations are determined by where people live. You are considered a City Resident if you reside within the City of Dublin corporate limits. School District Residents reside in the Dublin School District, but not within the City of Dublin corporate limits. Anyone not fitting into one of these two categories is considered a Non-Resident. Your mailing address or school district is not always an accurate indication of your City of Dublin residency status. You may research your residency status on the State of Ohio's website at http://tax.ohio.gov/divisions/employer_withholding/index.stm under "The Finder."
CR = City Resident | SDR = School District Resident | NR = Non-Resident
---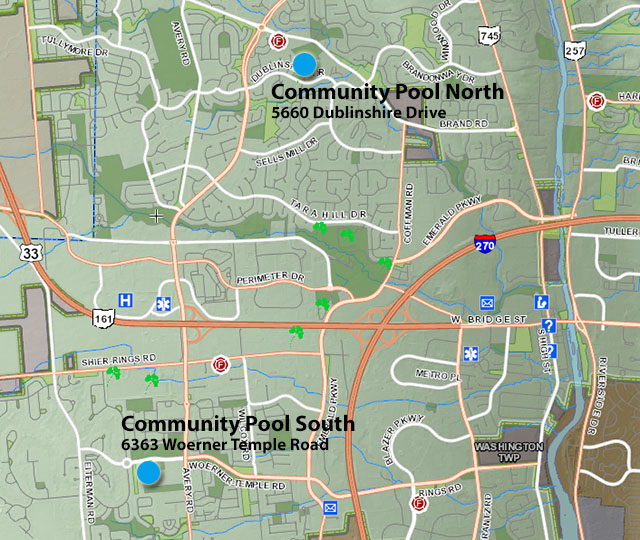 Dublin Community Pool North
5660 Dublinshire Drive
614.792.SWIM (7946)
The Dublin Community Pool North is on schedule to open with the start of the 2021 pool season. Learn more about this construction project.
Dublin Community Pool South
6363 Woerner Temple Road
614.889.SWIM (7946)
Ballantrae Community Park Spray Fountains
The Ballantrae Community Park spray fountains will be closed for the entire 2021 season due to the coronavirus pandemic and nature of the facility, which is subject to high volumes of people congregating in one space, no staffing and inability to provide contact tracing.